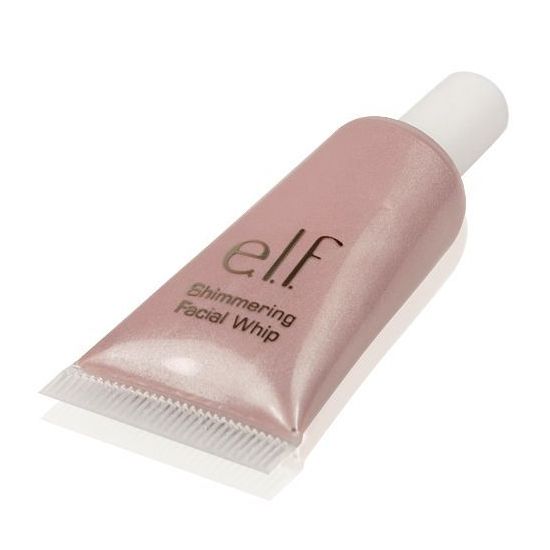 Rollover image to zoom
Reviews

Amazing Overall Product
So the highlighter is amazing when you first buy it. It has the perfect amount of shimmer for an everyday or even a dramatic makeup look. I've also noticed that I don't even need a powder highlighter on top to set it, unless I want to be really glowy ;) The problem is, after a while of using this product, it turns into white liquid drops that don't do anything on the skin. You have to squeeze a bunch of the white liquid out to finally get to the product. That is very frustrating but remember, it doesn't happen until you've had it for a while and this only costs $1! I think it's an amazing product overall, it just gets a little annoying when it turns into the drops. But again, it's ONE DOLLAR!

Natural sheen
I love, love, love this stuff for the price! It goes on really natural and gives you a born this way glow if applied correctly. The color is pinkish, and dries clear.. i put some of this stuff all over my face after i come out of the shower and my boyfriend always comments on how radiant i look :D plus, it smells delicious and lasts a long time! For a dollar? Definitely worth trying!

I was roaming around dollar tree to buy disposables and cleaning items for my makeup kit.of course I took a look at the makeup cause they have a few e.l.f products at the location I was at.I picked up the highlighter just to have it,I tried it on myself and it didn't work for me.I tried it on my client/team mate and it looked great on her it gave her a little glow.I was gentle with it due to the shine,a little drop is all you need.My dollar will go a long way and the product will last a while.

Love as a highlight!
I love this product as a highlight to my cheekbones! It gives this beautiful glow to my skin and it doesn't look cakey. I used to hate this product but once i started to use it right after my moisturizer(no foundation look) or on top of my foundation, and blended it in with a brush or tap it onto my skin, it truly was amazing. I love this product now and cannot figure out why i hated it in the beginning. I would say that i didn't shake the tube at all, and didn't really blend it into my skin. Another problem that i noticed in the beginning was that it kinda looked cakey because i put too much or i put too much powder on my face. With a more translucent powder on top, it didn't cake. Overall, I would recommend this product to people who want a cream highlighter.

This is my favorite elf product. Like, ever. Its 100000x better then the benefit one I was using earlier, and this one is only $1. I apply under my eyes, brow bone, corner of eyes, chin, and cheek bones, and it gives me this gorgeous healthy looking glow with a little sparkle. I love it.

Elizabeth C.
Jan 03, 2013
Wasn't sure about it at first
I normally stick to highlighting powders and powder products in general because I normal to dry skin and I am just more comfortable with powder products. But I gave this a go and I really like it! It is easy to apply, has great color and is build able, although you really don't need very much at all. I find it does go on better over the foundation before you powder, but still works great over powder. I find it is easy to apply with your fingers (before powdering) and a small fluffy brush (after powdering) it keeps its shine and shimmer for quite awhile and doesn't wear off easily. As with all e.l.f. products I have used thus far, excellent quality for the low price.

Use this everyday!
I think this product is amazing for the amount of money it costs, I picked mine up at Target. Before applying I shake the bottle and even though it is liquidy I just spot a few dabs on my cheekbones and blend it out with my fingers. I think it gives an awesome shimmery finish and I have repurchased this time and time again.

Would not repurchase.
This was okay at first, but after a few days, it was SUPER watery. I can barely use it. I was hoping to use it on my cheeks as a highlight, but it's too shimmery. I use it sometimes for my inner corner, but there are definitely other products I reach for first. It might be worth it if they have a shade you can't find anywhere else.

I love highlighters so I picked it up in spotlight. I find this product to be very watery. I don't know if I just got a bad one. Works great as a highlight but the consistency kind of turns me off. It separates when I apply it to the back of my hand. I have recently mixed a tiny bit into my foundation for more of a glow.
---