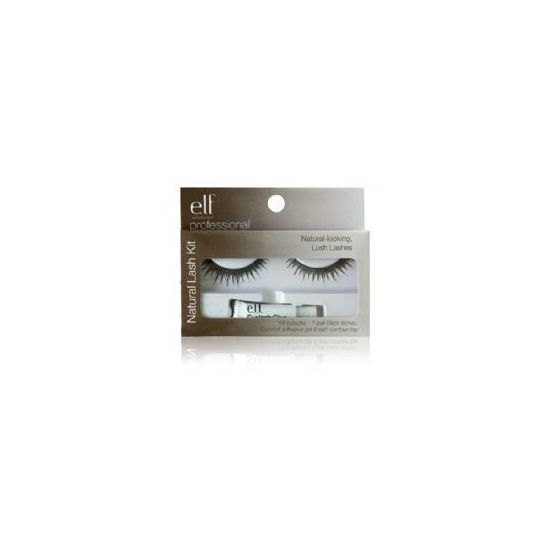 Rollover image to zoom
Reviews

It's alright
This pair of eyelash has a hard time staying on my eye ! Although some people say that after awhile , the band will become more snug to the eye , for someone who wants to use right away , it isn't a wise choice to choose this . Although this is just in my preference , you may think it's a great deal . I recommend using a different eyelash glue such as the Duo .

Love these!
I love these false eyelashes. I don't normally wear false lashes so i don't need to invest in expensive lashes. I only wear false lashes on special events so it is nice to have these to enhance my look. My sister does wear these everyday and she gets about 2-4 months of everyday use with them if she takes really good care of them. I do have a couple of these as backups because I know how much my mom and sister loves to come looking for some of my lashes. I would recommend this product because it's so affordable and you get a good look from them.

Lashes for Glasses
I am a everyday eyeglasses wearer and every time i did my eye makeup i was always missing my lashes because they are were so long like the ardells and red cherrys but i took a chance on these $1 lashes and I must say they are awesome. They do not rub or get stuck on my eyeglass lenses and they look so natural looking even when wearing them alone. Oh and watch out for ELF daily sales, I stocked on them when ELF had the 50% off sale and bought 20 pair of lashes for $10. Great deal, right?! and one more thing you can rewear them too!!!

Great for everyday use
I love these. Super easy to apply and only for $1 so worth it. I use a different lash glue than provided but that is just personal preference.I don't usually wear false lashes because my own natural lashes are so long already but these wouldn't be a hassle to deal with everyday and thats a lot coming from me. Since their only a dollar I stocked up and bought 3 pairs at Target and I'll probably be back for more.Enjoy!

Great Natural Looking Lashes
These are great for day & night! They are only $1 so you better stock up!! These are amazingly gorgeous and believe me, your eyes will be the center of attention! I absolutely love these lashes! The only downfall is that the glue that comes with these lashes suck, and they are a lot longer, so you have to cut them down a bit for them to fit your eyes. Other than that, they are great!

As a whole, not so much. However...
I don't wear fake lashes a lot (at all) but I do love the look they give. I wore these for NYE 2012...and I got compliments from everyone. However, I couldn't even use the whole lash! I don't know if my eyes are smaller, or what, but I looked like I was going for the drag queen look with the full set on. No joke. I just compensated by cutting these bad boys in half & using them on the outside of my eyes. It worked wonders. The glue sucks (Hi, they are like....$1) but I have urban decay lash glue that is amazing, so I use that

The Bands on these lashes feel a little heavy when I first put them on, but after a while I got used to them and it wasn't a problem. These offer a nice addition to my lashes, which are barely visible to the human eye! lol They aren't dramatic, which makes them suitable for everyday use. I definitely recommend these!

Elizabeth C.
Jan 12, 2012
my favorit
these eyelashes are my favorit, theyr like they say natural, I'm starting to wear them everyother day, to get better on applying them and finding a better way to apply them but these make your lashes look full and opens up your eyes, you can even get away buy just wearing these with eyeliner and highlight color and a lipstick and your good, hope this helps -elizabeth-

great everyday lashes
these lashes are perfect for everyday use, especially if you are new to false lashes. the downside to these are that u cant use them the next day, but i mean for 1 dollar u cant really complain. i plan to buy a bunch of these in my next elf order. these look really good with minimal makeup, especially if u put a lot of mascara on.
---