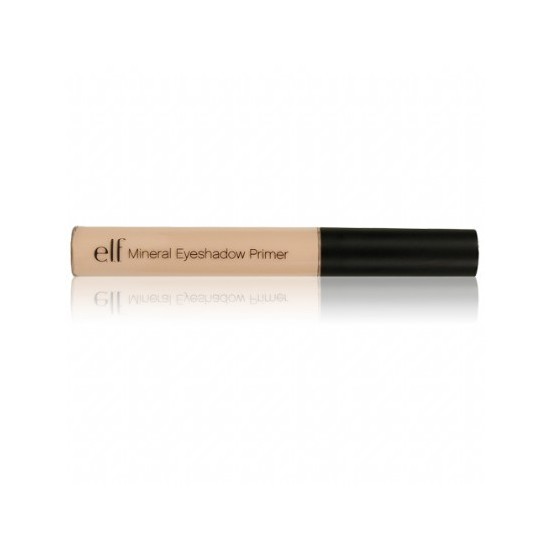 Rollover image to zoom
Reviews

My favorite!
I've gone through so many of these primers cause it's just that good and info through them fast. They are very affordable and I love that! So glad that I found a really good eye lid primer that works amazing!
Awesome!
In Australia primers are almost an unheard of substance, and only now they're starting to appear on our shelves. E.L.F. is a brand that needs to be imported - bought online and I will happily pay the shipping for this one. Oily skin - no problem. This easily gets me through an entire day at work without any creasing or fade. I recommend this little cheapy gem to everyone!

Elizabeth T.
Aug 07, 2012
Perfect Primer.
I used to use Urban Decay's primer potion until I found my bottle contained nasty ingredients, and I gave it away. THIS, though, is awesome. You can find ELF's mineral primer for $1-3 depending on sales, deals, etc. and it works great! It's just as good as all the other high-end primers out there, and costs nothing! This stuff doesn't crease, and keeps my shadows on all day long. I will definitely be buying this again. BTW, you can use the "blush" shade of this primer as a light pick-me-up for your lids on days when you need a quick go-over before heading out.

Great and Affordable!!
I have dry skin, so this product worked great for me, I bought 3 in the beginning and ended up using all 3 in a year!! :O I wouldn't recommend it to someone with oily skin, it tends to crease. This is the first and only eye shadow primer I ever tried and I bought mine for a dollar, it's time to buy more!!

I used it once and threw it out!
The E.L.F. Eyelid Primer which cost a single dollar is better than this! I tired both of them out at the same time and this primer creased on me like nothing I have seen before! It might be because I have oily lids, but non the less this did not work for me. As soon as I saw that it creased I threw it out. Never again.

I have oily lids and where I live doesn't help - tropical = hot & humid. This primer was the first I've tried and I totally enjoyed using it. It is sheer like mentioned, covers up a little imperfection like fine viens and helps my eyeshadow and liners stay put. So far, there's not been a single smudge nor crease after I've got this primer on. Definitely worth every penny :)

Great Find!
I am so pleased with this product! It was very cheap yet it works great for an everyday. I am not sure if this makes any difference to the color payoff of pressed eyeshadow but I will not be able to used mineral eyeshadow without it because the color of the mineral will just not show up the same! This keeps my eyeshadow from creasing for at least 4hrs (and I have 3 creases in each of my eyelids!) and is compared to Urban Decay's Primer Potion and Two Faced Shadow Insurance! I am so pleased! Don't be fooled by its thin consistency!
Pros: *Keeps eyeshadow from creasing for at least 4hrs *Helps transfer true color of mineral eyeshadow from the pot to your eye *Helps with fallout *Great price Cons: *Doesn't help with the color payoff of pressed eyeshadow
PICTURE- Picture shows an elf mineral eyeshadow without elf mineral primer on left and then on top of the primer on the right :D
---