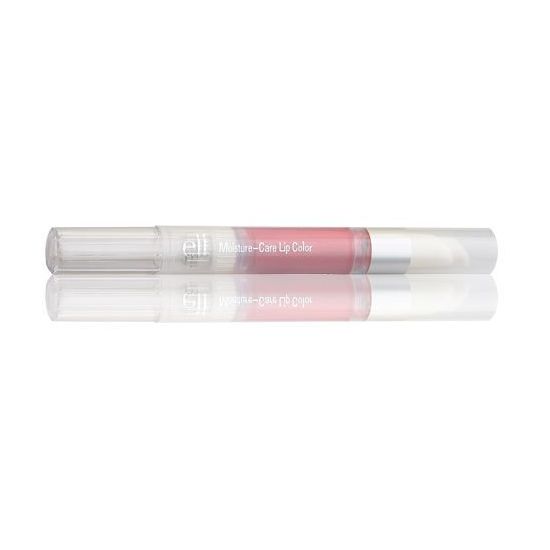 Rollover image to zoom
Reviews

Great for 1$
These are definitely NOT a liquid lipstick - which I didn't expect one from a one dollar product. I'm not sure why I keep seeing "pigmentation of a lipstick". To me this is simply a lipgloss. The pigmentation AND formula is just like a lipgloss. I have tried this in 2 of the lighter colors a while back. I purchased bark recently - and I like them. The swatches online are WAY off from the colors. They're a tad bit sticky. But I don't mind throwing it in my purse and swiping it on when I don't have anything else and need a little color.

In love
I got a really dark color the first time because the online swatch was horrible. That made me think the product was horrible. I bought some of the lighter pink shades and now i love them. These are not my favorite lip glosses from elf but i do love them. It was weird of how it came out with the gloss and lipstick kind of separated but i liked the way it looked on my lips. I did notice a slight minty scent like the one from the plumping lip glaze but i don't mind it. I like the sponge tip applicator and i highly recommend everyone to at least give it a try. I don't like how it's a twist product just because i feel like i'm going to use it up really quick but they last a good amount of time.

Emma Kirstine K.
Dec 24, 2012
Hybrid-product !
If you are into these sort of things, this is really good. I don't see this as a liquid lipstick, more some sort of a combination between a lipgloss, and a lipstick. It has the formula of a lipgloss, and the pigmentation of a lipstick. I love the menthol scent, like a sweet mint. The quality of the product is really good, but the packedging is not for me, but on the lips, as soon as this touches the lips, this is as good as any high-end pigmented lipgloss. I couldn't recommend this any higher! I might just end up buying every shade of these, and for one dollar, you can't go wrong with these.

I would so much call these a liquid lipstick only because they dont wear like a lipstick does the pigmentation is more like a lipgloss but i still would give these an a+. You dont get a lot of product but for a dollar you can stock up on your favorite shade. My favorite shade is baby lips but i have tried all of them and absolutely love them all of them. Its great for putting them over your favorite lipstick or wear them alone. They are a little on the sticky side but not to bad at all. Some of the darker shades like ruby slipper for example are more pigmented and for one dollar that is reallly awesome.. Please try these out!!!

Sojourner W.
Feb 11, 2012
Impressive for the price!
Oh e.l.f how I love you! I have been absolutely in LOVE with these lipsticks. I'm a high school senior and these are perfect (as well as their Glossy Glosses) because it's the best medium between a lipstick and a gloss! I get enough coverage as a lipstick and just enough gloss to balance everything out. The packaging is pretty sturdy for the cheap $1 price tag, way better than those Hypershine glosses from the line. I own 3 of them: Brownie Points, Maple Sugar, and Ruby Slipper with Brownie Ponts being my favorite of the 3, however Maple Sugar is up there. I haven't used Ruby Slipper yet because it's more of a red, but I can't wait to use it since I love the other two so much! Maybe...prom? Lol.
Pros: -Packaging -Pigment -Formula -Price -Availability
Cons: -Smell (if you don't like scented things, however I don't mind)

Love everything but the scent
I really like this gloss; I have Baby Lips and I love the sheer almost nude color on my lips, so I am always going to have this in my purse! Its not drying, stays on fairly well, the taste is ok, the only thing I don't like is pretty minor, and that would be the smell. The smell doesn't bother me its not unpleasant but its noticeable, its kind of like a eucalyptus smell to me but like i said its not unpleasant. I'm just used to MACs vanilla smell in their lip glasses. I'm seriously want to go back to Target and buy this in every single color! Its only a dollar each so why not!

Very nice
This product is a nice mixture of a lipstick and a gloss. It's not sticky at all and it has a very soft felt like applicator that feels really nice. When you first put it on, there is a slight minty feel to it but that soon goes away. This is a really nice product and for just a buck you can't beat it.
---