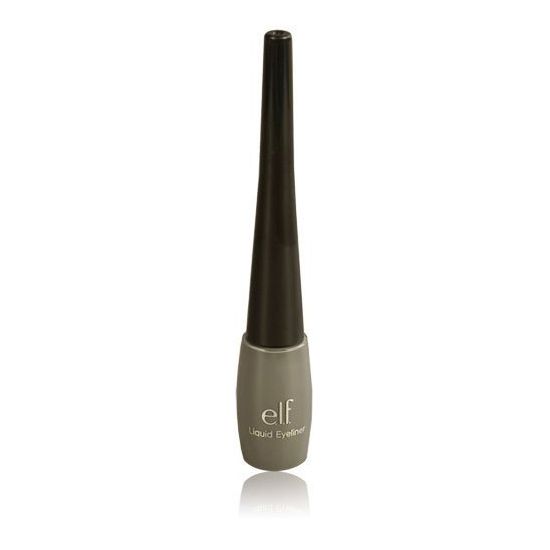 Rollover image to zoom
Reviews

Team
Cheap, quick, easy to use!
I'm a liquid eyeliner FIEND and while I am devoted to my Anna Sui Gel Eyeliner, I like to have a secondary eyeliner in which I can do a super quick cat eye (it takes a bit more time for me with the Anna Sui). I usually line my eyes with my Anna Sui then add the cat eye with my ELF liner. The brush makes it super fast and easy to flick out and make even, every single time.
I will say, that it doesn't quite last all day and the black isn't as rich black as I would want it to be but it still does a solid job. Touch ups are definitely needed with this eyeliner if I do use it on my entire top eyelid but it's so cheap that it's good to have on hand should I run out of liner in a pinch!

IDC This is this worst eyeliner. Its like if you go over the line again it erases and it turns like a pale black. It doesnt even last long at all. It was on for 30 minutes and there were huge spots missing. I will never repurchase elf eyeliners ever again.

Good :)
There's good news and there's bad news. The bad news: It's pretty translucent and doesn't give you that true black look unless you go over it a few times. It sometimes smudges off easily... yipes. The good news: You can easily create foolproof perfectly-shaped or barely-there lines, and for a price so cheap; you can't go wrong. It's also easy to remove!

My Favorite Eyeliner Ever!!!
This eyeliner is the best one I have ever used!! It's super easy to apply, long lasting, highly pigmented, easy to wash off during makeup removal time, and it costs $1! Can't beat that!

It does what it's suppose to do but it doesn't stay on for long time. I had to reapply it a few times in the day. I was out of town and I somehow lost my eyeliner. I needed eyeliner so bad. I was a the Dollar Tree with my mom and I saw that this was only a dollar, so i automated amused that it wasn't good. But it actually okay.

amazing
It glides on super easy and its so cheap the only flaw is you have to go over it a few times to get the perfect black. I love this liquid eyeliner!

Wasn't surprised as I knew what to expect
When these were super popular I wasn't that interested. When I did a Dollar General haul awhile back and noticed they had a ton of ELF, including this, I figured the makeup gods wanted me to get it. As everyone has said you can't always get a fully pigmented line, the brush is a little flimsy/not precise (and for some frayed out a bit) but I am willing to deal as I already have a great liquid liner- Prestige liquid liner in black. I chose a brown shade in case I wanted a more subtle cat eye. And its actually great for that. When you want a cat eye, but not in black, it looks beautiful, and its great to just add definition to the lashline if you were doing a brown smokey eye. I recently lined my inner eye with Coffee and my outer/wing with a black liner to create a subtle, two-toned effect, although it didn't really register as anything other than a cat eye. So, while it is a little sub-par and not something I'll use all the time, I do believe a brown liquid liner is a must in any kit/collection. (And I needed a new one, since my other brown l.l. had expired).

I have grown to love this liquid liner not more than my Kiss pen liner though that is to die for. I have found out that I cannot wear this without having on eyeshadow this on a naked eye with just smudge off even though it says it doesnt smudge it does on me but hey I will repurchase if I cant get to my Kiss liner again. Its only a dollar who could beat that! I love liquid liner!
---