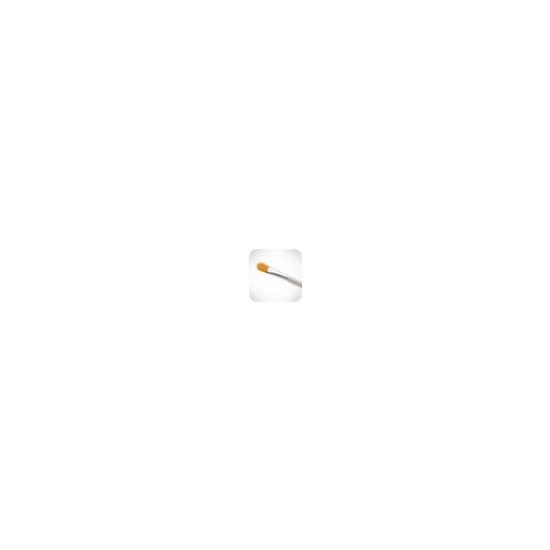 Rollover image to zoom
Reviews

Elizabeth C.
Jan 04, 2013
Great for a flat brush
If you like a flat brush for applying foundation, I this is as good as the high end ones. I personally like a round flat top brush for foundation application, but this one is great if you prefer a flat. One tip to prevent streaking, apply your moisturizer with it first.

Dallas Lynne S.
Jun 14, 2012
Absolutely Awesome!
I've seen tons and tons of people on makeup tutorial videos use foundation brushes to apply there foundation instead of using their fingers. I didn't even know they made such a brush! I looked at tons of stores and tons of online places and they are expensive! Until one day I was at the Family Dollar and seen they had e.l.f. brushes and wha la! They had it for only $1!! I bought it and I love it. Even though you have to clean it from time to time to keep it from streaking when applying, I love it. It's defiantly worth the buy!

good brush
Everytime I used this brush I have washed it because I am very anal about dirty brushes on my face and no fall-outs whatsoever. I have experienced minimal streaking (hardly noticeable) but then I buff in my foundation/tinted moisturizer with the E.L.F. studio powder brush and it does the job! It's a great brush for $2.

Great brush, especially for the price!
I love this brush! I mean it definitely isn't going to be high end quality for a buck- I notice these bad reviews on here, but It's great for the price! Very effective in applying liquid foundation- it looks good! There aren't any huge flaws. Isn't flimsy, doesn't streak. It's a good brush to have!

These are bomb ! i have 3 !
I am happy with these brushes , i like to practice halloween looks so i have 3 of these so i can have 2 for messing around and one for myself . There the perfect length and there not too hard and not to soft ! i also got them for $1 each ! , now who could argue with that ? If you happen to see this awesome elf brush dont hesitate to grab one ! you wont regret it :)
#TEAMELF

Great brush!
I love taklon foundation brushes, gets you a nice application! And the fact that it's 1 dollar is just that more amazing! ALSO! These kind of brushes are AMAZING for powder foundation, such as studio fix powder. Wonderful stuff. I thought I was crazy but then I saw that Enkore (major makeup guru) even thinks these kind of brushes are great for perfect powder foundation application. So yeah! I have 5.. Ahah. Great brush, get it!

I personally don't use this brush for foundation, but for facial masks. It works perfectly for that :) Great affordable price too! I was shocked that it was only a $1 at Target. This brush is super easy to clean too.
---