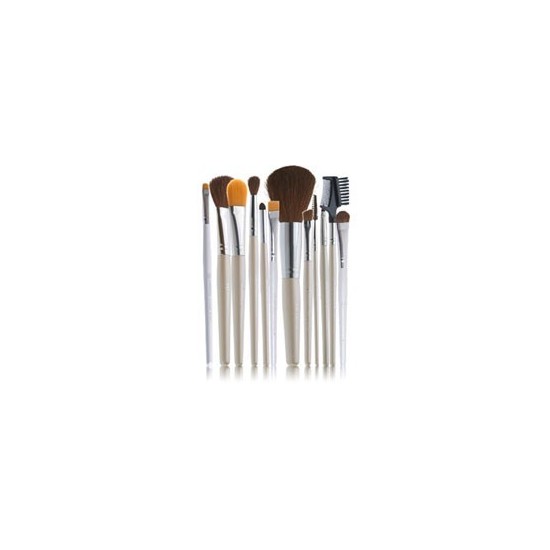 Rollover image to zoom
Reviews

Great bang for your buck!
I have the 9 piece brush kit that came in a roll. However, I own all of the brushes in the kit above.
Purchased these half off during one of ELFs "break time" sales. They are very good for the $7.50 I paid for them. I haven't noticed any shedding since I've had mine (I've had them for over a year now and use them on a weekly basis). In terms of performance, the eye brushes win. They are great. The face brushes aren't as great as the eye brushes, however, THEY GET THE JOB DONE! If you don't want to walk around with your special stash of brushes, I suggest snagging this brush set. Great for travelling (comes with a nice roll), and gentle on the pocket book. Again, it'll get the job done and relatively painlessly.
Taking the price into consideration and the amount of brushes you get and the fact that they perform well. I give em 3.5 stars.
**The only thing to note..if you have sensitive skin, the bristles on the face and blush brush might irritate your skin.

Great set for such a cheap price
At $1 per brush, this was definitely a wise investment for my kit. The brushes are great sizes for their purpose. The handles seemed a little slippery, but it's negligible. It's a great starter set for budding MUAs looking to build their kit for cheap.

i just recenty bought elfs foundation brush and i love it. i was using a triangly sponge to aply my foundation, and it worked pretty well, but with the brush its like i'm painting the the make up on face so i'm getting fuller more even coverage vs as to what i was getting with the spnonge. so i'm loving the brush.

most of these brushes are wonderful
I got this set, and it was my first introduction to make up brushes. I love most of the brushes in this kit, but there are few that are too rough or I just generally don't have a use for them. But overall I think this was a decent investment for what I payed, and its a great set for beginners!

e.l.f. haul
last week i order online and started shiped to my door delievery. that one i like brow roll because need lift more time to see clear on bone. i had other products of lift and fullest for brow ivory and medium. very clear my brow, look so great. i love that kind. i do sometime to take out to make up. i like so much. :) one thing i forgot, i order all some items and brush set 12. i love e.l.f products because good prices.

Not a bad set!
For $12 you can't go wrong! It comes with an array of face and eye brushes. I don't really use the face brushes much but they're not bad at all. I really, really liked the eye brushes. Especially the shadow brushes! Unfortunately after a few months the ferrules come off and need to be super glued back on. A bummer, but still pretty nice for a buck a brush!

This is a great set of brushes and affordable! Main thing I went for here is affordability. Brushes sometimes can break your bank, but they truly make a difference to makeup application. Invest, but don't get overboard!
---