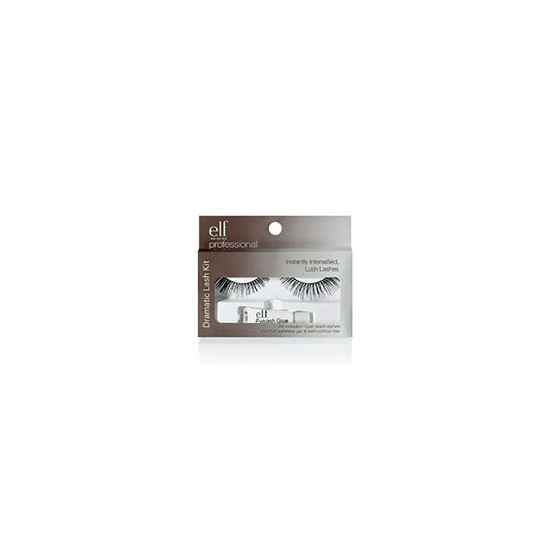 Rollover image to zoom
Reviews

S Michelle D.
Nov 09, 2011
Nice Lashes, Great Price
For a dollar, I stock up on these lashes because they are great for everyday wear. The glue is no good so stick to your normal brand. If your new to false lashes I would buy these and experiment because they're totally affordable and it won't hurt your wallet if you have to go through more than a few pair before you get it just right.

best bang for your buck!
these are what i call "economy" lashes, lol. for a buck you really cant beat it. I refuse to pay more for all these other strip lashes that are good for one time use also. I agree with everyone else about the glue, dont use it! it sucks so just use a better glue. i like the Dramatic ones, i use them all the time on myself and clients such as brides.

Practice Eyelashes
I hated when I had to spend so much money to practice strip false eye lash application. e.l.f. has provided me with a much better opportunity. Although they aren't as glamourous they are practical. I use Lash Duo adhesive. One time I had to use these on a client and they were super thin. I made them thicker by layering three sets together. They looked like they were million dollar lashes. I'm just saying: THE POSSIBILITIES!

Love
I love these as much as the natural one. The weird thing is that the natural one looks longer on my sister's lashes than these. For me, it's dramatic on me and the natural ones are natural looking for me. I love these because sometimes for my special night outs i like to get really dressed up so these compliments my look a lot better. For the price, how could it go wrong. I would recommend this product to try out because it gives a great dramatic flair to your eyes.
Come on a dollar, these lashes are so worth your dollar. They are very natural feeling and the band is so easy to work with it applies easily. Some $1 lashes feel very plasticy but not these there amazing, i do recommend to not use the glue it comes with because to me it sucked but with a good glue ( lash grip or duo) it will do
---