Complete Coverage Concealer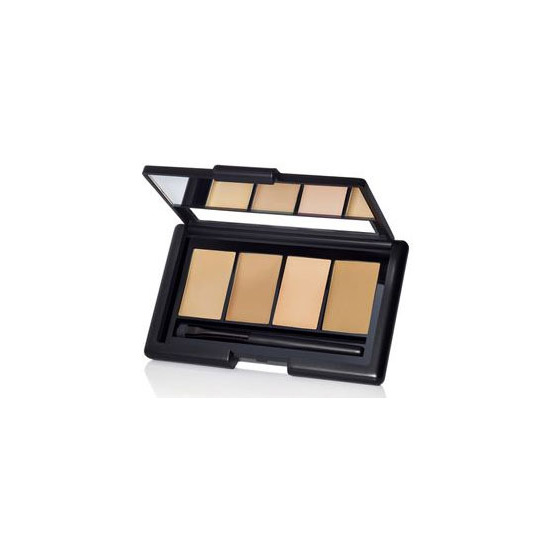 Rollover image to zoom
Reviews

Amazing 4 the price
I know theres bad reviews here. But maybe it's because of the way people are using them. i purchased this off the AU site & I have never been happier :D I find the BEST way to use this product is to USE your fingers- In a dabbing motion, and oh my goodness does a great job over my cream & liquid foundations!! Definetly a buildable coverage!! I mix the colours to make a lovely under eye & face highlight my shade I bought is "Light" even though im NC42-30 In winter. for pimples I dap the product on top of the pimple then blend out covers fine. I will definetly re-purchase this again. Ps. I am oily skinned and have not gotten oily or anything from it. Only Con- The TINY brush does nothing, BUT use it as an eyebrow filling brush :D Hope this was helpful

very dissatisfied---sorry.
i bought this because the colors looked so promising and all that jazz but to my dismay when i tried every single shade---not even one worked for me! too sheer!! i was so disappointed that i wanna throw it away (because i don't wanna give my friends any product that i dislike---they'll be very very disappointed!) and so it sits at the very end of my makeup drawer and i don't know what to do with it. (i also have their correctors and same result: dissatisfied!)

Terrible product
Im sorry to say that at 3.00, this concealer is overpriced!!! I threw mine out within 2 uses. This has no coverage, its streaky and doesnt blend at all!!!. Its does not last and i felt like it made the areas i applied it to look really cakey. I love a lot of E.L.F products but def not this one. i would not recommend this to anyone, sorry E.L.F :( xoxo

Don't bother
Excuse me for being blunt, but this was awful!
The texture was creamy and smooth, but the product had absolutely NO staying power. Granted that I live in a hot and humid country, and I have semi-oily skin, but concealers are meant to STAY on regardless. This doesn't even cover anything. I layered and layered and it just doesn't conceal my blemishes at all. And what's a concealer if it doesn't do what it's supposed to do?
Extremely disappointed, and the only good side is that I didn't pay a lot for it.

Good for the price
The concealer is creamy and easy to pick up. I like how there is a range of colors to fit different skin tones. It is easy to apply and coverage is average but build-able. Only real con is the staying power even after setting with powder.
---