 Rollover image to zoom
Reviews

Great Compact
Let me start out by saying how much i love the big mirror in this compact! Normally with these kinds of custom compacts, the mirror is small but this one is just huge! I really love the packaging of this compact because it's different from the ones i own. I love how you can plop that middle piece that holds onto the wells and make the palette into a 5 eyeshadow holder. I have been told that you can put MAC shadows in it. If you do plop out that middle piece, make sure you glue or tape the metal down so it doesn't come out. Remember that this is a custom compact so don't feel obligated to just put eyeshadows in it. You can add powder, blushes, bronzers, lippies, and etc. Overall, I would recommend this compact to everyone.

Great
Love it! The compact itself is sturdy and stylish and has a big mirror, which for me is always a huge plus. As for the elements, some are hits, some are ok and others are just NO - from my own experience and that of my friends, the lip and face elements are just not worth it. I have a lip element in Peaches and it's ugh! creasy and drying and the color makes me look dead. Having sensitive skin, I dared not purchase face elements because all the reviews on the Romanian elf site are negative. Now for the eye elements: - I love Dusk, it's pigmented and vavavoom like Adam Lambert ground into an eyeshadow. It is... not chalky, powdery somehow, you loose a lot of product that way, but for the price, who cares? And strangely, there is very little fallout. - I love Mocha, it's a beautiful rusty brown, perfect for autumn. - I love Moondust, it's an intense purplish taupy color, great for everyday. I think it goes very well as an outer v accent with pale gold on the lid and a coral in the crease. Forsake black eyeliner for a forest green, preferably pencil. However, it's not quite as pigmented as i would want it to be. - Golden Glow is a hoochi yellow gold which must be handled with care. But it can be tamed. - Sage is a moss green with gold shimmer, very pretty. - Periwinkle is a gray with a very strong blue base. Pigmented, but not like the others. - Ivory is a shimmery white.Not much else to say about it, I mean, it's a shimmery white. Not much you can do with it...

One great compact.
This little wonder is only a dollar. The mirror is a nice size for travel. The wells hold 4 e.l.f. elements eye shadows within a white, hard plastic exterior. The great part is that these shadows are the same size as MAC shadows. There is also room for a double sided sponge applicator. If you pry out the bottom part and use some double sided tape underneath the metal, you can freestyle the palette. This way, 5 eye shadows, one blush and one shadow, or one powder can fit inside. I think I have about 5 of these. I see no reason in purchasing the refillable 4 pan compacts that MAC sell.

Great idea
I really like this compact because you can customize the products that you want to carry around in it and it's only $1. There are choices from eyeshadows, face products and lip products. This compact is magnect and I like how each pan can be put in easily and also removing the pans are easy as well. This does come with a double ended small brush but I don't really use that. I did drop my first compact on my tiled bathroom floor and the mirror pretty much shattered, so handle this with care.
Favorite Eyeshadows: Pink Ice and Ivy

Personally, i like the shadows that i purchased. i don't remember what they are called but what i really don't like is wiping the compact mirror from dust. All of the shadow gets on the mirror whenever you put it in your bag and it gets all jumbled around. the shadow/palette breaks up and gets on the mirror. its just a pain to wipe off every time i try to use it.

IN.LOVE!
Okay, I love love the eye shadows that you buy to go in this thing! SO pigmented and wonderful! They are only a dollar which is a plus, and this is be great for traveling! I have Wisteria, Moondust, Mocha, and Ivory and I love them! I am soooo happy I got them! It was 5 bucks total. (you had to buy the compact separate, which is fine because it is only a dollar too!) I am probably going to buy some more in the future! ~Kirbie

Perfect For Travel!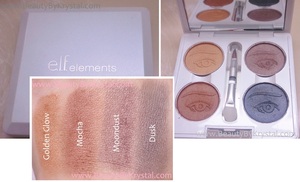 I purchased the ELF Elements Custom Compact solely out of curiosity and for blogging purposes, most you know by now that I definitely don't need more makeup. I have seen this on the Eyes Lips Face website, and have debating on getting it for a very long time. I don't remember what pushed me, but I finally purchased it and now I'm asking myself "Why didn't I buy this sooner?"
The compact is sold separately from the eye, face and lip pans you purchase to customize your own quad. The compact is only $1.00, it has a full size mirror inside, a slot for the included lip brush and shadow sponge (double ended) applicator, and then 4 magnetized slots for the pans you choose to place inside the quad. The compact is great quality for only one dollar! The magnetism is strong enough to hold your pans in place with no shifting and if dropped onto your counter and then onto the floor, it will survive the fall and your makeup won't shatter (can you tell I've experienced this?). The pans you buy separately are $1.00 each and a tad bit thinner in size compared to a MAC pan. They currently offer 10 eye shadows, 5 face powders (a mix of blushes and bronzers), and 10 lip colors (which seem to be their original lipstick shades based on the names). The quality of the products are just the same as the full size products they sell, which is pigmented, long-lasting and great shade selections for all skin tones.
I chose to fill my compact with 4 eye shadows; Golden Glow which is a pure gold, Mocha which is a bronzed brown, Moondust which is a rosy taupe, and Dusk which is a dark gray. The pigmentation is outstanding, with a shadow base these lasted 10+hrs, and the compact protected them enough that there was barely any crossed particles - which I describe as the dusts from eye shadows mixing into other pans from them moving around in the palette.
I think this is a great concept and I hope ELF will expand their pan selections soon because I honestly plan to buy them all so that when I travel and can switch out what I want to bring with me! I love this product and highly recommend it! A palette for only $5 AND you can customize it to your liking?! Amazing!

I LOVE how inexpensive this is! Super awesome price, amazing packaging, and I just love the compact. What I don't like the most though, are the shadows. At first they seemed really nice and pigmented, but they're a huge mess. I made a pretty big mess in the car when I bought this. I was super excited to try out the shadows, but they sucked. The color isn't as pretty on your lids than it is in the pan. I would probably use the compact for any other shadow that fits into it, but I wouldn't use it for E.L.F. I guess the term you get what you pay for is really the case for these shadows..
---