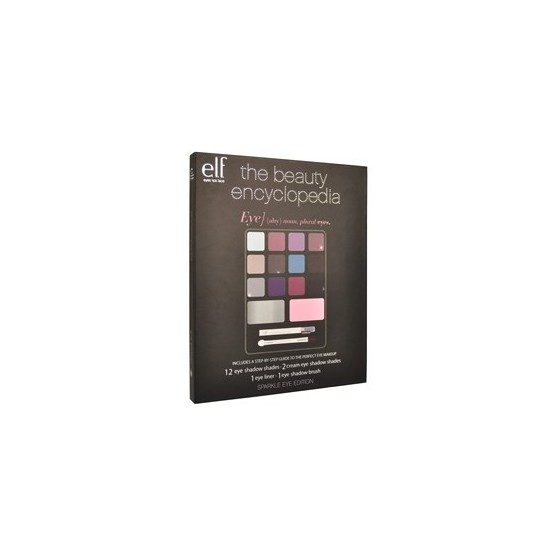 Rollover image to zoom
Reviews

Super useful palette
ELF's Sparkle Eye Edition Beauty Encyclopedia is a palette containing 12 pressed eyeshadows, two cream eyeshadows, a mini brightening eyeliner, and double ended brush. I received mine as a Christmas present. It's available from eyeslipsface.com or Target for just $5. The palette is packaged to look like a book. On the inside cover there are some somewhat vague directions and diagrams. The first part of the palette I'll review is the pressed shadows. I'll give a brief description of each. 1. White - Shimmer finish, hard, dry texture, poor color pay off, good for a highlight though. 2. Tan - Shimmer finish, average softness, decent color pay off. 3. Pink - Blue based pink. Glitter finish, average softness, good color pay off. 4. Taupe- Metallic finish, very soft, good color pay off. 5. Another Tan - Glitter finish, very soft, good color pay off, my favorite shade in the palette. 6.Moss Green - Shimmer finish, average softness, good color pay off. 7. Blue - Leans teal, metallic finish, soft, very good color pay off. 8. Medium Brown - Matte finish, soft, good color pay off, very useful shade. 9. Burgundy - Matte finish, soft, very good color pay off. 10. Silver - Shimmer finish, very muted, hard texture, decent color pay off, good for highlighting. 11. Purple - Matte finish, very soft, very good color pay off, best shade in palette overall. 12. Black - Glitter finish, hard texture, good color pay off, another useful shade. Overall these shadows are inconsistent but good. All of the shadows, even the ones with texture problems, blend well and apply smoothly. I have not pigmentation issues with any of the shades, except the silver. Wear time on these is good, I get 8+hours of wear without fading or creasing. One problem I do have with the shadows is fallout. The glitter finish shadows leave a ton of fall out on my cheeks, but I can deal with that. I get a lot of use out of these shadows.
Next is the two cream shadows/bases. I'm not a fan of either of these for eyeshadows or bases. They crease instantly even with primer and set with powder. However, I get a lot of use of them both. I use the white cream shadow to highlight, and also as a base for swatches. I've recently hit pan on it. As for the pink cream shade, it makes a really pretty, glowy cream blush.
The palette also includes a mini size of ELF's Brightening Eyeliner in Coffee. To be honest I don't get a lot of use out of this eyeliner. It's not that its a bad eyeliner, it actually applies nicely. But its too dark to use in my brows, and I don't find myself reaching for a brown eyeliner very often. It has a nice creamy consistency and is very subtle when applied. I think I'm going to try using it more often.
Lastly the double sided brush. One side is a sponge tip applicator, the other side is a smaller version of ELF's Eyeshadow Brush. which just about everyone loves. (I have 4 including this one :3), The sponge side was good, it had a softer, less porous texture than your average sponge tip. It served the basic function of a sponge tip, and patted on shadows well. I say "was" because it recently split in half. But it had a good 9 month run. As for the brush side, I get a ton of use from this mini-brush. It's great for cutting the crease and blending, as well as applying shadows to the lid. It's about 2/3 the size of a full sized ELF Eyeshadow Brush, but has the same shape and density. I actually like the smaller size better as its very versatile.
I highly recommend this palette. For only $5 its an unbeatable value, and with only one or two exceptions, they quality is excellent. All of the shades are very useful, and you can create a range of day and night looks. It's definitely a palette you'll reach for often.

Cute and fun
The packaging was very cute - it's basically like a little book and all your eyeshadows are on one 'page', while the other 'page' consists of instructions on how to apply them. I don't like how you can't close it properly, so taking it on travels is a big no-no, unless you secure it with rubber bands or something. The eyeshadows tend to have a wee bit of fallout and can get messy if it's not closed right.
I find the shadow textures pretty decent. Colors were pigmented enough (with a primer underneath of course) and very blendable. Easy to mix and match as well, and all the colors are suitable for day and night wear. There is significant fall out though, but nothing too drastic. I didn't use the eyeshadow brush and pencil liner that came with it, so can't say much about their quality.
Overall, this is a good palette and for a very good price.

Just lil Sparkle is all I need!
I used this palette of eyeshadow faithfully. Love how it the shadow gives a pop of sparkle without the fallout. Now I wear this look when I'm out on the town or with my girls. But there are some matte shades that I also during the daytime while I'm working. I'm really in love with this palette.
---