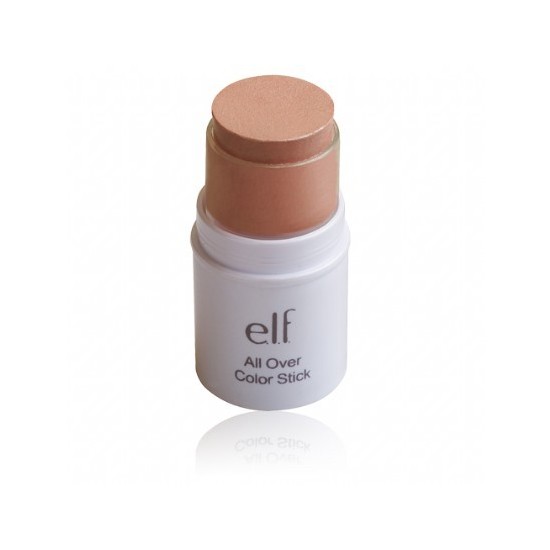 Rollover image to zoom
Reviews

Multipurpose product; creamy, blend-able, build-able & only $1!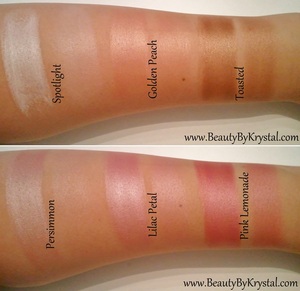 These solid sticks are so creamy and blend-able that I can use some of the shades as eye color bases, check and brow highlights, blushes, lip tints and as bronzers. They are the ultimate multi-use products! I find that they last quite a long time, of course when I use them on my eyes I set them with a powder shadow - usually a sheer one because when I use these as color bases, I always want to keep the color they provide instead of just using it as a sticky base and covering it up with another shade. Sometimes when I used them as a cream blush, I'll layer a powder blush on top to give the color more punch, but on my normal to dry skin I don't need to set it. When I use these are a lip tint, I always dab some clear gloss on top because they will dry out the lips after a couple hours of wear - they are a creamy product, but they aren't emollient enough to hydrate your lips for extended wear time. Overall I love this product, I think it's a great idea and it's only a dollar so it's well worth the money. You actually only need a little bit with each use, and although the packaging looks small - it lasts a lonnng time!
Some ways I use these shades: Eye color bases: I use all shades Cheekbone, brow bone, nose bridge, cupids bow highlighting: Spotlight, Persimmon, Golden Peach Blush: Golden Peach, Lilac Petal, Pink Lemonade Bronzer: Toasted Lip color/tint: Pink Lemonade
(closer swatch photos on my blog: http://www.beautybykrystal.com/2011/12/elf-essential-all-over-color-stick.html)

The best colour
This is such an amazing blusher - its so easy to use, only costs $1 and is the most perfect colour. I just use my fingers to blend it in - definitely have found that's the easiest way. I can't explain how much I love this. I'm going to buy it for all my friends and my kit too! Absolutely recommend this colour in particular - is perfect for all skintones. I also have pink lemonade and lilac petal. Pink lemonade is very bright - definitely need to be careful when applying and blend with fingers.

I LOVE THIS STUFF
This all over color sticks is only $1 so there isn't much that you should be able to complain about. Specifically this color is my favorite. A lot of people say it doesn't blend well but to me it blends just fine. One stamp of it goes a long way. I don't use this particular color on my cheeks very often but I do like it as a blush. I use it mostly on my lips and it is absolutely the prettiest lip color I've ever seen (in my opinion). Just put on some lip balm, dab on this color stick and some clear lip gloss, and you're good to go. I can't even stress enough how great this product is for WHAT it is. Also, the golden peach color makes for great shimmery eye shadow base! or to add a golden sheen to any lip stick. Just dab it on the middle of your lips. Everyone go try it!

Nice
I have the Pink Lemonade and love it as a creamy eyeshadow base and lip stain. I have had no problems at all with texture or color payoff. Overall, I really recommend it. My daughter uses Spotlight as a bit of shimmer, as she's not much of a "makeup" girl, when she wants to add a bit of sparkle.

its okay
I have this on golden peach which is a beautiful color if you have medium skin and I loved it when I first got it. Its great if you have perfect skin but if you don't it can really enhance your acne and bumps since its quite shimmery. I love it on my "good skin" days as a highlighter on my cheek bones but wouldn't repurchase since it also has some chucks of glitter here and there...

Pretty Good for the Price
I got this a few months ago because I needed something that I could put on fast in the car on days that I didn't have a lot of time before work. It's a nice shade. Kinda heavy to some people maybe, but I like heavier blush so it worked well for me. I wouldn't wear it on my eyes or lips though, because it's a little too thick and creamy. The only complaints I have are that it's kinda thick, so don't use too much, and it doesn't last more then a few hours. All in all, it was $1 at Target, so it wasn't a waste of money by any means.

Good
I saw a video on how to apply this product at it totally helped me! If you want to use it as a blush then use a blush brush and swipe the top of the product and apply it to your face. If you want to use it as a lipstick just dap you finger in it! Lastly if you want to use this as an eyeshadow...use and eyeshadow brush! Makes the color look better then using the stick directly to your face!

Elizabeth W.
May 12, 2011
I got these at my Dollar Tree and was pretty pleased. I got the colors Golden Peach and Pink Lemonade. I use the Pink Lemonade as a blush and the Golden peach as a highlight. I do have to apply them before I apply my powder though because I already have oily skin and cremes tend to make that problem a little worse.

yuck!!
the all over color sticks are prob the worst products elf has made.. i bought 2 of them.. one in lilac petal and the other in persimmon.. they dont go on smoothly so it feels like my skin is being pulled and they dont blend very well either.. im going to play around with them to see what i can possibly use them for. any ideas??
---