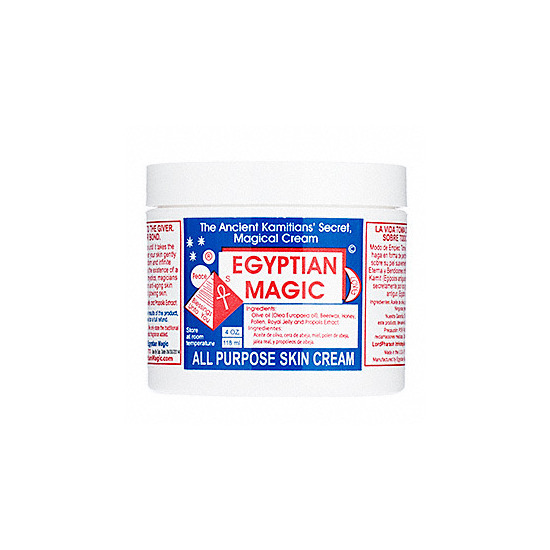 Rollover image to zoom
Reviews

Multi-purpose skin balm
It is greasy and very oily. It has the consistency of Vaseline and has very subtle honey scent to it. I used this while I living back at home. I would use this on my legs after I got out of the shower. I don't use this on my face in the day so this has become my night balm. I figured a way to use it. On dried skin, this just don't work. I will still have flakes and just look uber greasy. I use this when my face is in between wet and damp. I slapped this on and it will seal the water that is still on my face. It didn't heal the entire flakes but I have no more flakes on my forehead. I still have some on my cheeks and the tip of my nose. I will continue to use this to prevent more flakes.
This cause me to have tiny bumps on my face when I first started to use it within a week. I stopped using it and start using it again but only at night and I don't get the same bumps as the first time I used it. No idea what went wrong there but it's one of my fav night balm now.
I also used this on my burns, bites and even when my skin is irritated. It is especially useful when my skin gets weird and I want to get rid of it fast. It is my multi-purpose in the bathroom for all skin emergencies.

BEST PRODUCT EVER.
I cannot live without this. It has an unbelievable amount of uses - just check on the website! I use it EVERY single day without fail. My favourite uses are as a lip balm, a night mask, day moisturizer/makeup primer, on my dry elbows, a hair mask, on my feet in a foot spa. And it has MANY more uses. This is something I believe everyone needs on hand. It astounds me how amazing it is. You can really notice a big difference in your skins moisture from using this and it doesn't have a freaky smell like some multi-purpose creams.

Nancy-Lee C.
Aug 12, 2012
Emulsify into an oil first, or it's thick!
"This miraculous all-purpose formula will amaze you." Has it ever!! I have been singing the praises of this multipurpose magic cream since the samples first arrived in our office.
It comes out of the packette as a thick a balm since the natural ingrediants can turn to a semi-state in colder environments. Follow the directions and emulsify it into an oil-like consistency. If you do not do this, you will find it too think to properly apply. I put a small amount of Egyptian Magic on my fingertips and rub it between my left and right hand, creating friction so my skin fully absorbs the oil.
Chosen in my June BeautyARMY Kit, I use it mainly as a hand cream and I confidently apply it to my acne scars too. Suitable for all skin types, it has never caused me to break out and works quickly to fade the discoloration - I saw results at the end of 2 weeks. Unscented, you need the smallest amount. My sample lasted me 3 weeks!
Retailing in a 4oz jar for $37.20 I will absolutely purchase this full size vessel and I recommend this all-in-one miracle formula, to everyone!

It's Good
I bought this product around 2 years ago and I still have plenty of it left just because I only use this for my lips and the ends of my hair. This is way too oily to be sitting on my face. There was no way I could keep this on my face for a long time unless I put this on at night as a mask. If you have really dry skin, this product will be great for you. Oily skin people, stay away from it. But over all, it is a good all purpose skin cream.

Simply a balm.
I know it says cream, but it is not a cream. It is more of a solid balm.. This is an all purpose type of thing, if you have dry spots this is for that. I do not think it works better than lotion all the time and it is somewhat greasy after application so it is hard to use during the day. Some people swear by this, I see in the description it says you can use it in your hair? I haven't tried that and I have not put it on my face since I have oily skin and like I said it is greasy... so I wouldn't try this as a blemish reducer...
I use it when my hands get super dry in the winter and sometimes during pedicures but it just feels like it is more for people with pretty dry skin..
---