Bamboo Deluxe Concealer Brush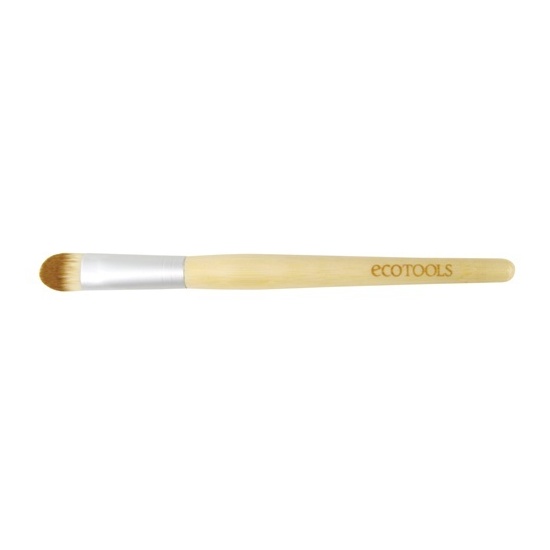 Rollover image to zoom
Reviews

Perfect all-rounder
This brush is an excellent size and texture; it won't leave you with a streaky or patchy finish, and blends gently without tugging at the delicate skin around the eye. The shape is perfect for application around the eyes - good for both concealer and cream shadows - and is big enough for use on the rest of the face, perfect if you like to skip foundation and just wear concealer. It blends seamlessly, picking up a good amount of product and distributing it evenly, using up all the product on the brush so nothing is wasted.
This was my first Ecotools brush that I picked up when I couldn't find the Revlon brush I wanted - glad Boots was poorly stocked that day :)
*I should add: for covering blemishes, a smaller, pointier brush will give more precision. This brush is better for blending over larger areas.

My FAVORITE brush.....and I have ALOT of brushes! ;-)
Where to begin, where to begin??? The construction of the brush is superb like all of Eco Tools products. The bristles are crazy soft and the handle fits very comfortably in my hand.
This brush works brilliantly for blending out concealer. It's soft enough not to tug at the delicate under-eye area, yet firm enough to spread the concealer in an even and concise manner.
I have several of these brushes that I also use to apply my cream eyeshadows and bases. It blends perfectly over my eyelid with 1-2 swipes! I also use this to clean up my brows. For some reason, this brush works better than my fingers at shaping and cleaning up my brows.
I've used it to apply pigments....it's a little big for intricate applications, but works like a charm if you're apply a single color on the lid.
I could go on-and-on about this brush! This is my 'workhorse' brush. While I have several of these brushes, I have been using them for quite a few years with no apparent wear and tear. What a great quality brush!

The brushes are very soft, yet still sturdy. It blends your eyeshadow and other powders very smoothly for that smokey effect. All the brushes are great and useful for your entire face and long lasting quality. I love how it's environmental friendly. Two thumbs up!

Good brushes at an even better price
I love this brush range and i especially love this concealer brush - firm bristles allow your concealer to cover and blend perfectly, yet the soft nature will not damage the delicate skin under your eyes! The handles are beautifully sculpted and they fit perfectly in the hand - if only you could write essays with one of these instead of a pen!

Concealer Brush
This concealer brush is amazing if you like putting on your concealer with a brush. I personally like to use my finger now, but it is an amazing brush for being drugstore and affordable. The texture of the brush is so soft and it is the perfect size. If you have smaller eyes, then you might find it hard to use and blend under the eyes but is great for blemishes or imperfections. Hope this helps :) xo
---