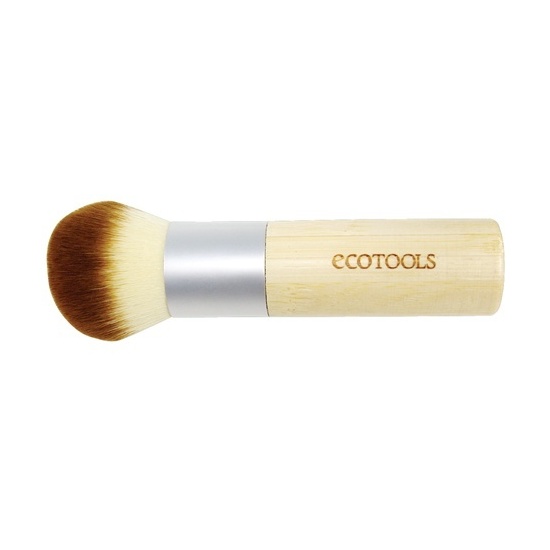 Rollover image to zoom
Reviews

Many, many uses for this brush....
First, the construction of this brush is fantastic. Very sturdy and I personally like the fat handle. The bristles are about the softest I've felt and the price is cheap, but it is not reflective of the quality.
I have several of these....I use it mostly to apply my MSF. It's my final step when I'm going for a total flawless look. You don't need alot of product, the brush applies the msf perfectly.
I also have been using this to apply bronzer and surprisingly, cream blush! I love how this brush gently presses the product into my skin.
I highly recommend trying out all of the EcoTools products. They are a great company who provide high-end quality at the drug store.

Great quality, super inexpensive.
I have had this brush for over a year now and after ever cleaning it feels brand new again. EcoTools have the best drugstore brushes on the market. This brush makes blush and powder application smooth and natural. I have yet to see a single bristle fall out and it's as fluffy as the day I bought it.

IN LOVE!
i am currently obsessed with this brush! it has given me the most seamless powder application ever! ( i use it for pressed/loose powder) because of the price point i wasn't expecting a lot but i was surprised by this brush! i am going to check out all the brushes from Ecotools!

Great Brush!!
I love this brush for body bronzing. I use a much smaller one for contouring and putting bronzer on my face, but this is GREAT for everywhere else. I love to pull bronzer onto my decolletage, and shoulders, and this is perfect for that! I recommend it to anyone! I've never used an Eco Tools brush that wasn't awesome, I love the brand!

Amazingly Soft!
I absolutely love this brush!! Ecotool brushes are amazing and I love the whole line! This brush in particular is very versatile. You can use it for powder, bronzer, blush, and even highlight. The bristles are amazingly soft and very VERY dense. It can definitely pick up the product very nicely and gives a very smooth application. Definitely Recommend!

Must Have
This brush is incredible. It is extremely dense and very soft. I use this to buff in my THE mAC Mineralize Skinfinish Natural and it helps me achieve a flawless finish. It is very affordable compared to similar brushes from other companies. Plus it's eco friendly what more can you ask for.

soft, dense, inexpensive
this brush is amazing, especially for the price. it's the softest, densest brush around. i used it for my bare minerals powder foundation or any loose powder - i think it's a little too chunky for bronzer or blush. a great deal at $10! warning - it takes more than a day to dry after washing.
My new favorite brush!
I have been drawn to and purchased other EcoTools brushes strictly because they are an eco-responsible company. I bought this brush in hopes that I could use it to apply my Bare Escentuals mineral foundation and it has exceeded my expectations. Not only is there minimal packaging (too much packaging always makes me sad), it held up the shape when I washed it before I used it. It's very dense and soft and when I used it to apply my foundation...perfection. It blended my foundation flawlessly.
Environmentally responsible company, amazingly low prices, wide range of brushes....will absolutely purchase additional brushes.

MUST-HAVE FOR EVERYONE!
This bad boy sits prominently on my vanity, proudly holding it's place next to my higher-end brushes such as my MAC and Hakuhodo brushes.
I use this for loose powder as well. This thing is teddy-bear soft, and sturdily made. It holds its shape, and does a fantastic job of applying sheer powders and buffing. Ergonomically, it's the perfect shape and size, but that's just my personal view on it. It took me AGES to find one, since they're always sold out, but I finally did after a year of searching, and I loved it so much, I bought a back-up of it online. I can see this being used for liquid foundation use too, since it's shaped like my Sephora #55 airbrush, but more dense.
If you had to own 3 things from Ecotools, this would be it, in this order:
Bronzing brush Angled brush Blush brush
---