Bamboo 6 Piece Eye Brush Set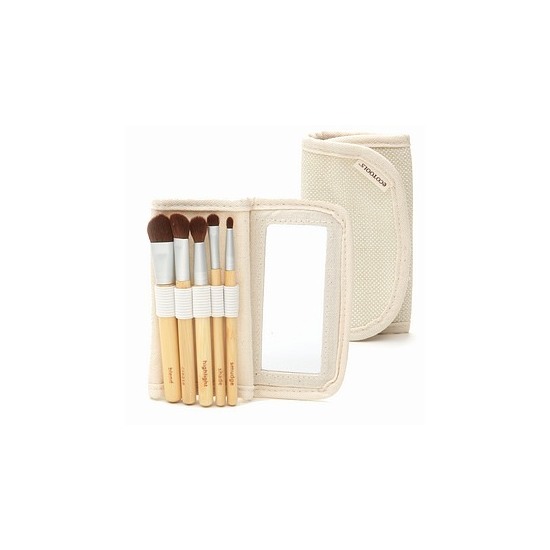 Rollover image to zoom
Reviews

Kassondra B.
Nov 16, 2015
Best Brushes
I've used more expensive brushes, brand brushes and special ordered ones. Ecotools are hands down the best of them, and you can't beat the price. The hairs are gentle, but they're not sparse either. They pick up and distribute product extremely well- a little goes a long way. They come in varying sizes and are easy to find. Best brushes I've ever used.

These brushes are pretty decent. The only brush I use really is the small flat brush for packing on eyeshadow and the larger tapered brush to set my under eye concealer. I find them quite scratchy tbh, they don't shed though which is awesome!

GO-TO/FAVORITE/AMAZING BRUSHES!
This 6 piece eye brush set from Eco Tools is my absolute favorite thing possibly in my makeup collection! Ever since I bought these I have gotten so much more use out of all of my eye shadows and palettes! They apply and blend the products so well! Each brush has its own use which I love! My sister used my set and fell in love so I bought her a set as well! 5 STARS ALL THE WAY! RAVE IS NOW OVER! :)

One of the best eye sets!
I love all of these brushes! Yes, they're short, but they work really well. The large eye brush is great for putting a base eyecolor down quickly. The angled crease brush, is my favorite! It's great for putting a background crease color. It's also awesome for highlighting the browbone and inner corners because of the slanted edge. The blending brush is a standard brush, it takes it a bit to really blend colors out. The dome smudger brush is amazing for blending out top and bottom pencil eyeliner with great precision. I can even blend out a smokey wing with this. The smaller detail brush is great. It's small enough to get into the corners of the eye, and big enough to back on some color to the lid. It's like a mini 217 from MAC. These brushes are so amazingly soft, and clean easily! I think this wasn't more than 10 bucks.

EcoTools calls this six piece brush set an "eye makover on the go". Each of the five brushes is designed to have multiple functions. These brushes feature "soft, cruelty free taklon bristles, recycled aluminum ferrules, and sleek bamboo handles." EcoTools is a wildly popular brand among bloggers big and small. As most already know, EcoTools make very reasonably priced brushes and other cosmetic accessories that can be bought worldwide at just about any drugstore and major retailers. I bought this brush set at Rite Aid on a buy one get one free deal for $7.99, the MSRP, but I've seen it priced for as low as $6, a great deal. I believe EcoTools products are made in America, they are a cruelty free brand. The five brushes come wrapped up in a small hemp and cotton brush roll that resembles an envelope when closed via velcro. A small mirror can be found inside. It's a decent quality mirror, but too small to do your makeup with, except maybe lipstick or gloss. Five elastic loops inside hold the brushes in place. The case isn't cute by any means, but it's functional and well made. I don't store my brushes in this brush roll, but I do use it for travel purposes. The brushes in this set are travel size, about five inches long from bottom of the handle to tip of the bristles. Each lacquered bamboo handle features the EcoTools logo and brush name carved into them. The aluminum ferrules are firmly attached to the handle and hold the synthetic bristles in place well. Each brush is dense, silky soft, splay free, washes well, and doesn't shed. The quality is fantastic, especially considering the price. The first brush in the set is the Blend brush, also known as the Large Eye brush. . Large Eye brush is, in my opinion, a more apt name for this brush for two reasons. First off, it's an entirely different shape than most blending brushes, instead of being fluffy and round, this brush is flat but full, coming to a slightly rounded tip, not really the shape I think of for blending. The other reason? This brush's head is legit the same size as my eyelid. How can I blend with something that takes up the entire surface of my eyelid? That being said, this brush does blend really nicely, but I prefer to use to to apply a light wash of color over the whole lid in one go. This is a lazy day kind of brush. Next up is the highlgiht brush. Long bristles taper into a softly pointed tip. I have never once used this brush to highlight, mainly because it's the perfect crease brush for my eye shape. I would buy this whole set again just for this brush. It applies and blends shadow into the crease flawlessly. It's the ideal shape for hooded, deep set, almond, or Asian shaped eyes, anyone with a small crease. Thinking about it, I suppose this brush would be good for highlighting for those with larger, rounder eyes. The precise point would be good for applying just a touch of shadow under the brow or in the inner corner. The third brush in this collection is the Smudge brush. I think this brush could be improved upon a little. What would I change? I'd make it just a little stiffer. Because EcoTools Smudge brush isn't quite the stiffness I'd prefer, I find that it doesn't smudge shadow or liner as well as I'd like, but it could get the job done in a pinch. I prefer to use this brush in the outer V and to define the crease, it's the perfect size, shape, and density. The Shade brush, a.k.a. the Petite Eye Shading Brush, is a teeny tiny shading/paddle brush, definitely the littlest one that I have. This brush is perfect for it's assigned function, it packs on eyeshadow beautifully, can be used to blend a bit, and is thin enough to use along the lower lash line. This brush is ideal for detail work and precise, perfect application. Last and probably lease is the Crease brush. A gently angled brush, it's only a little too big for my crease, but it should be fine for most eye shapes and sizes. I use this brush when I want an extreme, rounded crease but it's otherwise impractical for me, personally. It's not a bad brush, it's just not suited for my smaller eyes. It blends really nicely, and creates a nice shape. This is the brush I reach for least frequently. I really like the EcoTools 6 Piece Eye Brush set. There isn't a bad brush in the bunch. However I don't feel like it's fully complete. This kit could use a little angled liner brush or perhaps a fluffy blending brush. Of course I feel like most kits need an angled liner brush though, they're my favs. Aside from that, EcoTools offers a good selection of eye brushes, definitely all you need if you're traveling. This brush set is excellent, potentially some of the best brushes on the drugstore level, but I think everyone says that. I would repurchase this brush set if I needed to, but they seem very good quality, so I likely won't have to at least for quite a while. Go get these brushes, it'll be eight bucks well spent!

Good for Traveling!
I was in desperate need of brushes and i came across these at my local drugstore for only 6 dollars! I love them! Once i started getting more 'advanced' in makeup i just started using these brushes for my purse and just to do touch ups in the day because they didn't exactly work for what i needed them for. Other than that, Theyre amazing!

Love them!
After discovering EcoTools and loving the brush set I got, I knew I would really dig this set. It was even cuter than the last one- mini brushes and a tidy little velcro pouch/wrap. They are small and portable, but not too delicate or small because they are comfortable and easy to use, and just as sturdy as a larger brush. I actually do like using the brushes the way they are suggested to be used and have come up with creative uses for them on my own. That's the beauty of this set- you can really cater to any eyeshadow need/look. They're great for anyone, especially beginners. I like to use the "highlighting" brush as a blending and brow bone highlighting brush, the smaller brush ( 4th brush in set) for fine details around the eyes like crease work and lash lining, and the smallest brush ( 5th and last in set) for highlighting the tear duct/inner third of the eye. All in all its a wonderful set and a great companion to my first EcoTools set.
---