 Rollover image to zoom
Reviews

Perfect lipstick for girls who just want a sheer of color on their lips.
These lipsticks are giving your lips a subtle color with a hint of shimmer. They are extremely nourishing and are soft to the lips, they are creamy easy to apply and are long lasting if you use a lip primer first. To put them on: * Use a lip primer first, to see the exact shade on the lipstick use a nude primer or use some foundation. * Dab the lipstick gently against your lips or use a brush. * Finish it with a gloss if you want an extra glossy look. If you want a more subtle gloss just highlight your lips in the middle. * To define your lips you could use a lip pencil first but I personally don't think it's necessarily.

Nancy-Lee C.
Jan 09, 2011
i might need an intervention!!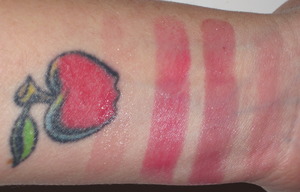 This is for #174 Rose Must-Have. It is a peachy nude, the perfect neutral good for all skin tones. This line is not frosted. You can see shimmer in this shade but it provides the shine, you will not have glitter-lips. lol. Super creamy going on, long lasting, no odor, no taste and they do not run.
OMGOODNESS! This was the first on that i bought and I fell in love with this entire line. I own 4 (lost the 5th) and at $26 a piece that's not a cheap investment. But they are the best lip colour that I have used in a very long time, so to me, they are totally worth the price.
This is the shade all the way to the right. As you can see, they are quite sheer, so you should experiment with shades you normally wouldn't buy. You can really wear these all year. Simply change the pencil or gloss to add drama.
The vessel is super fun and they stay locked tight, I have never found a cap-less lipstick in my bag. 5star all the way. I can't wait to add more to my collection.

Emma Kirstine K.
Jan 13, 2012
i'm lost for words
when i first got this, it was love from the first second :) It's hard to describe the constancy, but i'll try :) it's a mix between a lipstick and a lipgloss. A sheer pigmentation, a subtle shimmer, and glossy finish. This is for all girls. and there's a color range, that will fit most skintones. I actually can't find any thing about this, that i don't like...love love love, all the way around this !

Amazing lipstick!
I never really wore lipstick because they always had some funky allergic reactions on my lips-- and whenever I did, I had to make sure and apply chapstick before the lipstick.
This is the ONLY one whose formula actually agrees with my skin type! I can wear it alone and not worry about nasty allergies, on my lips of all places! I love the shine and the color. It's just perfect. And no lipgloss needed after applying!

Nancy-Lee C.
Jan 09, 2011
Sheer Shine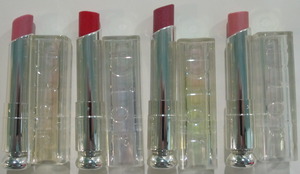 The name says it all. On my wrist below this shade is all the way to the left, grazing the base of my apple tattoo. It looks petal pink with specks of glitter yet it simply enhances your own natural lip shade.
You can still add lip liner, but you would want to fill in your lips, this would show a tell-tale line. You can always spice it up with a gloss, like I mentioned below but I would apply it only to the center part of your lips.
Super creamy and super moisturizing. This shade will work well on all skin tones. The picture shows the shades in the tubes from left to right: 664, 754, 680 and 174.

Nancy-Lee C.
Jan 09, 2011
A red for everyone.
This was the 3rd addition to my collection. If you see this shade in just the tube you're going to say "WTF" but trust me, it's a facade - it's totally sheer. This is the 2nd shade from the left on my wrist below and I swiped 2 layers so you could see the colour. If you are afraid of bright colours but have always wanted to wear red, this is the product for you. The shade is true but not saturated.
I love this - I think it's my favourite of the 4. I bought it for 4th of July and rocked it this winter with NARS Bad Education gloss. I always receive compliments on this colour.
Just as creamy as the others, moisturizing and non-running. This shade does not reveal the shimmer as easily as 680, 174 and 664 but you clearly see how shiny it is when it is on your lips.
I will buy this as long as Dior makes it. I feel like a retro screen siren.

Nancy-Lee C.
Jan 09, 2011
My favourite 'purple'
This was the second one that I purchased.
This is # 680, Catwalk Mauve, a shimmery, plum kissed mauve. NOT '80's mauve. A tone that will look great on all skin tones. This is not a frost, you can see tiny specs of glitter but they only produce an iridescence not glitter-lip. This is the second shade from the right on my wrist below.
I have been rocking this off and on all year, I can change the intensity by simply changing the liner or adding gloss. HOT!
The consistency is super creamy but not thick. They are translucent, so don't be afraid to experiment with shades you might not usually purchase. They will also smooth your rough pieces on your lips.

OH MY GOD I love this lipstick! I have to admit the packaging was what sold me, but I am obsessed with the product inside! These lipsticks are perfect for a SHEER wash of color. If you are expecting something pigmented, do not buy this product. What I love about this lipstick is that you still can see your natural lip color, but it is enhanced! There is a lot of shine and moisture. I like the Chanel Rouge Coco formula better, but this is lovely too! The only reason I could not give it a full 5 stars was because of the longevity! The longevity is horrible! I am too obsessed with the color I have to really care, and I do not mind pulling the pretty packaging out every 10 minutes to reapply. Hope this was helpful. It is buildable too...
blog: http://dreamingofbeautyx.blogspot.com/ please follow!
---