Creme de Rose Smoothing Plumping Lip Balm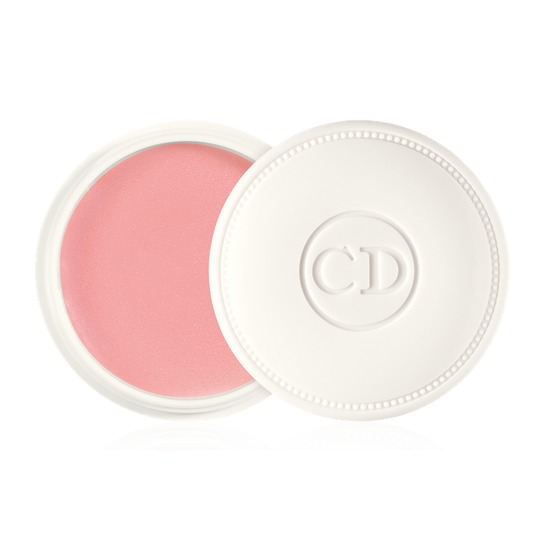 Rollover image to zoom
Reviews

Worth The Money!
As a lip balm conoisseur, I can say, without a doubt, that this is the best lip balm ever!
The first thing that strikes me is the packaging. It is so sleek and elegant. It oozes luxury, with a simple CD on the front. It has a very secure twist-off lid. I certainly has a very nice look to it.
I got this to combat frigid, dry winter air, and the subsequent chapped, peeling lips it brings, and I couldn't have picked better! Firstly, it smells AMAZING! Hence the name, it has a delicate rose scent to it.
To put it on, I swirl my finger around the tin once, and just dab it on my lips. The balm is REALLY hydrating, and makes the lips extremely soft. Though it permeates into the lips quickly, it stays for a very long time. I'm a full-time water drinker, and I only have to apply this once every 4 or 5 hours.
My only complaint is the "form" it has. I really wish it would come in a more traditional stick. I feel like that is more sanitary, and also makes the application more even and effective. Plus, having the twist off top makes it difficult to apply in the car/on the go.
Don't get me wrong- this is an indulgence. $27 is A TON for a lip balm, and there are many comparable lower-price options. On the other hand, if you are looking for an excellent luxury product, this is the way to go! Overall, I ADORE this balm, and encourage you to go pick one up.

Lovely and moisturizing
I hust bought this, and really love it so far! The scent is delightful and rosy. I am obsessed with floral scents in other product forms, but I have never found floral lip balms to be enjoyable. They usually have a sour after-smell and taste. This lip balm has changed the game. Dior has perfected the neutrality of this product as well. It isn't sticky at all, with no gloss either. BUT, it somehow fills out the lines of your lips to give a soft beautiful pout that other lip balms just don't do! You do have to layer the product though because it doesn't distribute generously onto your lips. It's really smoothing and feels extremely luxurious. The packaging is gorgeous, reminds me of Versace for some reason... Overall, I definitely recommend this to anyone. The price is steep, not exactly a necessity, but if you are in the mood to spoil yourself with something luxurious this is the product for you! I love it, and will repurchase it when I run out.

It took me a long time to actually buy this product because in my mind paying that much for a lip balm was just stupid to me, but after biting the bullet I will say I'm glad I got it. I will say I don't notice that this product plumps my lips, but I love how it doesn't just sit on top of your lips like most lip balms do, this one really hydrates my lips and has helped repair them as well from all the dry cold weather. So I can see myself repurchasing this

Worth the price, but wish it was a twist up!
I have very sensitive lips that are consistently dry, chapped and peeling, all year round. Therefore, I'm always on the hunt for miraculous lip balms that will do something lessen the cracking and peeling. I really hesitated on buying this product because it is so fanged expensive, but nothing else (eos, Vaseline, maybelline, all drugstore basically, bite beauty, fresh, etc) wasn't working. I took the plunge. And while this isn't a miracle product, it's by far better than anything else I've used. I use it before I go to sleep, I put this on, and next morning my lips are in wonderful condition and stay that way until about noon. Unfortunately, the packaging is not the most convenient and so I refrain from taking this around with me and rely on the other gazillion lip balms I have lying around to stave off cracking for the rest of the day. I still have some dryness and peeling throughout the day, but it's quite minimal when compared to before. Again, not a miracle product but it makes a significant difference, which makes it worth it to me.

Ehhhh.
Back when I was naive, I bought this because it was my favorite guru's holy grail lip balm. I had super high hopes for this lip balm. I was let down. I'm not a big fan of floral scents but I planned on overlooking that in the sake of feeling like so-and-so. I'm also on the go a lot, so the pot isn't really convenient for me. It just wasn't the most moisturizing.
---