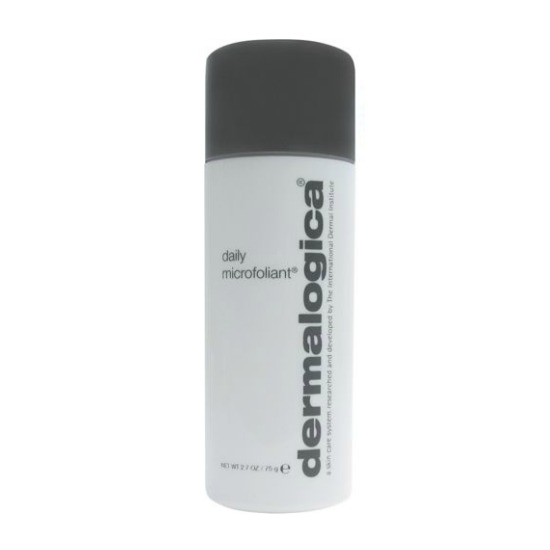 Rollover image to zoom
Reviews

Bye bye dead skin cells!
I admit it. I am an exfoliant junkie. Give me a product that makes me feel like I'm scrubbing my face off, well at least the dead skin cells anyways, and I will be a happy woman. Now that my knowledge about proper skincare is expanding, so is my own personal at-home skincare regime. I have since traded in my Apricot Scrub for Dermalogica's Daily Microfoliant.
Daily Microfoliant is a product that all different skin types and conditions can use on a regular (even on a daily) basis. Daily Microfoliant is a physical exfoliant. It's made up of a rice-based enzyme powder that when added to water, eats away the dead skin cells on the face. Even just after one use, you'll notice that your face is smoother and brighter. Trust me, you don't want dead skin cells hanging out on your face. A build-up of dead skin cells can eventually cause breakouts and congestion. Who wants that on their face?
It's easy to use. As soon as you finish washing your face, pour only a half-teaspoon of Daily Micro into your wet palms. Add a splash of water and rub the product into the palms of your hand until you see it start to lather. Add the lather to your face. Let the Daily Micro sit on your face for 2 to 3 minutes while the enzymes go to work. Then rinse.
A little bit goes a long way with Daily Micro so make sure that you only use a half-teaspoon of product for each use. Any more than that and you're just wasting product.

SOFT SKIN!!!
I received this product at an LA Beautylish event back in March and I absolutely love it. It took me a while to figure it out and I made a mess with the powder, but after the silly confusion I exfoliated my face with this powder and it left me skin like new. Everytime I exfoliate with this product it leaves my skin soo soft. This is definitely a must try and I am actually all out so I need to buy more!

Daily Mini Facial Necessity
Liberation for your face! It will pull everything out of your skin that you did or didn't know was there.
I mix it in a small rubber mixing bowl with a fan brush and then use that same fan brush to apply it with. I usually spread it onto my face down my neck and on my chest. I go over the micro mix with a round facial brush to drive it deeper and add to the exfoliation process. Rinsing with water and follow up with Dermalogica's Dermalogica Multi-Active Toner and a sun-screen.
You will start to see that the more you use the Daily Microfoliant the brighter and more smooth your skin will be.

Gentle & effective exfoliant
I am not a fan of Dermalogica's line for myself, because of the lavender used in their products. This gave me severe allergic reaction. The Microfoliant is the only product I can use and I love it. After using it, my skin is extremely soft. The scrub is gentle and effective (not harsh) great for daily use. I wish it was more affordable.

Courteney R.
Mar 05, 2014
Nothing compares!
When I first purchased this exfoliant 2.5 years ago I was not too happy about the price but desperate too find something for my oily skin. 2.5 years later I am still using the same bottle and I use it almost everyday! So I really can't complain about price when the product is amazing and has lasted this long.

Fantastic for daily use
Most exfoliant a shouldn't be used daily, this is one of the few that is gentle enough that it can be used daily without stripping your skins protective layer while still being effective. Is gentle enough that I can use it on my clients who have rosacea. The main ingredient is oatmeal so it does have that smell to it, some like it some don't but the bottom line is that it's a great product
---