3D White Advanced Vivid Enamel Renewal Toothpaste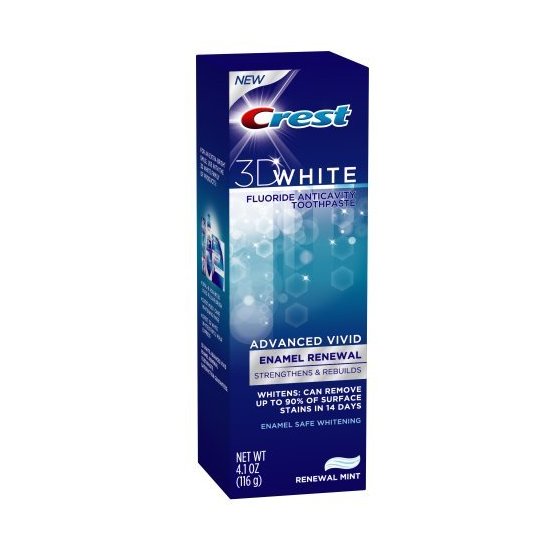 Rollover image to zoom
Reviews

BEST TOOTHPASTE EVER!
I love love love this toothpaste! It really whitens your teeth and I can definitely feel the enamel renewal. I haven't been using it since I've been home for the summer from school and I'm definitely feeling the enamel wear - totally regretting it. This is a great whitening line all together. And it doesn't hurt that this toothpaste has a great taste to it! Hands down, my favorite.

Seriously whitens your teeth!
I'm a big coffee drinker and smoke (womp womp wompp. lol) so my teeth get pretty yellow which is so disgusting! After using this for the first time I could already see a huge difference. My teeth got pretty white by the time I finished the bottle. Sadly I wasn't able to go out and buy the same kind and they went back to being their tint, but just recently I got a brand new tube! Using this with the mouthwash also gives you better results!

Never Using Regular Toothpaste Ever AGAIN!
The Crest 3D line is the only toothpaste I will use from now on. I like having my teeth pearly white, and this toothpaste does just what it says. The Crest 3D line is worth it!

The Crest 3D line is the only line that I feel comfortable buying and it does what it says! It removes stains that your teeth have and it does a marvelous smile. Don't expect pearly white teeth like celebrities but you can definitely expect a whiter smile than what your used too. All their toothpaste are great and I've heard the strips works wonder! Definitely recommend!! :)

i loved this toothpaste
i use to use this every day until after 2 1/2 months of use, two of my teeth chipped. i went to my dentist and she told me i need to discintinue using my currant tooth paste because my enamel was almost completely gone! i switched to crest prohealth, has some whitening but it focuses on gum and enamel health.
---