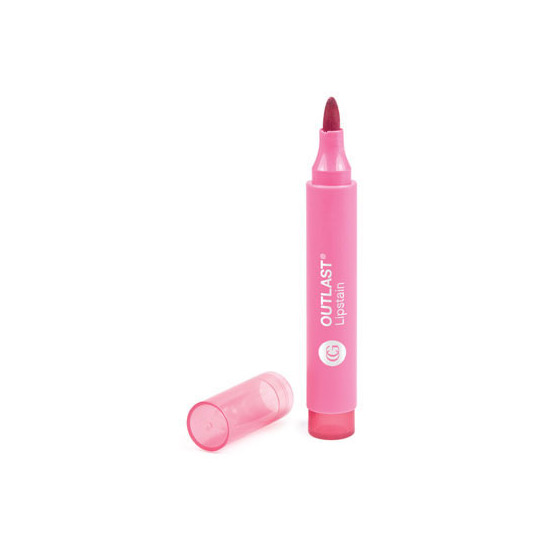 Rollover image to zoom
Reviews

As it promises, this stain sticks on lips for hours at a time and won't smear upon eating or drinking. It's easy to apply thanks to the big felt marker-tip.
I find this kind of tacky without a gloss over the top. Definitely felt like it dried out my lips a bit, and I felt like my lips were sticking together if worn alone. Not entirely thrilled with the colour range available, either. But if you're looking for a cheaper lipstain, or need long-lasting colour in a pinch, not a terrible buy at all.

Zaji-Kali B.
Mar 14, 2011
Great Product. Average Lipstain.
PROS: It is relatively long wearing compared to other lip products. There are a variety of colors. It has a felt tip, marker-like, applicator which makes it relatively simple to apply.
CONS:Dries out lips. Product itself sometimes dries up (I don't know what that is about...). It doesn't last as well as other lipstain do, but considering the price it is pretty good.
SUMMARY: If you are in a price crunch - this is your best bet, considering the quality. There is color variety and easy application.

Love.
Like the name, this lipstain definitely outlasts normal wear. I had breakfast, I drank coffee, I had lunch, I drank water; it didn't come off until I rubbed my lips with a tissue. It does dry out your lips a bit but I think that's expected of all lipstains. The felt-tip marker makes this a cinch to apply. I ended up snagging four different shades.

Jacqueline S.
Dec 20, 2010
Great Stain
This is a really great lip stain. I have a few different colors of it. Most of them are very pigmented, and i had no issue them transferring to my lips except for the mauve color. I'm not sure if I got one that was already dried out or not, but It is rough going on my lips and I feel like I have to work at it to get the color to come out. This lip stain really does dry out my lips, but I just keep a chap stick with me at all times anyway and apply it over the top when needed. Thats something I do anyway, so It was really no hassle.

Never again!
I actually really really dislike this product! The stain tends to slip and settle in the cracks of my lips only and they were REALLY hard to remove even with a lip remover!
However, this is just how the product reacted with my lips. I know a whole bunch of people who loves this product so I'm guessing this products works for some and doesn't work for some.

"Outlast" is a stretch
CoverGirl and I have a disagreement on the word "outlast." If to them it means an hour then sure their product is right on. However, I'm seriously doubting that. I used this several times and consistently had poor results. It began to wear off within 15 minutes and completely gone within an hour or two. The product also settles around the edges of the lip forming a ring. When I would go to reapply, the stain would be lighter in the middle than where the ring had formed. It will also settle into creases.

Great Matte Look - Stays On... BUT
I bought (400) on impulse at Ulta a few ays before I left for Maui. I figured that the price point ($8.99) made it a throwaway if I hated it.
I adored the color and I was really pleasantly surprised by the lovely matte look and how long the color lasted. I actually returned a Stila stain I'd purchased at Sephora ~ and bought 5 other colors to take on my trip.
Then... I was disappointed when every single color dried up after a couple of days. I picked up a couple of NYX jumbo lip pencils to get me through the trip and tried the *fixes* on the Covergirl site to remoisten the stains.
Longer story short... I called Covergirl, they sent me coupons to replace the stains and I am giving them another shot. Keeping them inverted in a pencil cup seems to be helping.
They are not a replacement for my beloved Nars Lipstains - but they are a great cheap backup.
7.14.11 Edit: No love on the Lipstains. Great colors, great stains but they go dry very quickly.

Beat my expectations.
I was waiting for this product to let me down, I'm usually not a fan of Cover Girl cosmetics. To my surprise, my color did last a while throughout the day. I had to reapply it once or twice, but I was eating and drinking the whole time. Not bad! As opposed to other stains I've tried, I like the applicator a lot. It allows for precise application, but isn't too pointy. No streaks when I apply, no pain, and the color is very buildable and even.

Not Bad!
I actually really like these. To say it lasts all day is a stretch, I usually find myself re-applying once or twice if I wear this, but it goes on so smooth, and doesn't make my lips dry and patchy! It definitely stays even, and has buildable color. They are not as dry, and don't tug on your lip while you apply them. So much better than the Revlon Just Bitten LipStains!
---