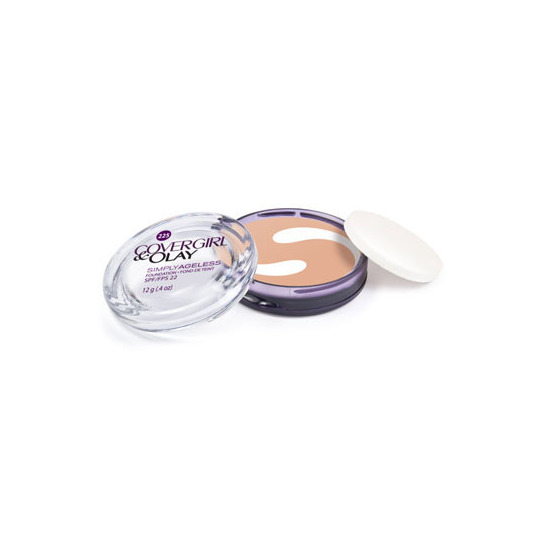 Rollover image to zoom
Reviews

Elizabeth G.
Jan 18, 2013
The best foundation I've ever used!
I LOVE this foundation. I'm usually so iffy about putting foundations/concealers and the like from the drug store on my face, but I've heard so many good things about this foundation that I had to try it. This foundation is so smooth and lightweight, it feels like you're wearing nothing. The finish and coverage reminds me so much of Nars Sheer Glow, which used to be my Holy Grail, but I haven't bought another bottle after discovering this!

Nancy-Lee C.
Jan 05, 2011
Love the Olay
I received a full size Creamy Natural to try and review and it is an excellent product. I am an oily skin, so i'm not the exact target client but I used it for 30 days and this is what I thought.
I like the vessel. It has the product on top and you store your sponge applicator in the base. The foundation goes on very creamy, the serum is cooling, and both products blend easily and look natural. Plus, you can build the coverage as needed. (it never caused blemishes to my oily skin)
The downside, it transfers to everything. My cell phone, sunglasses, scarf.... *sigh* Well, you can't go wrong for the price @ $15, a dry or mature skin will like this.

best foundation for acne coverage
i have acne around my jawline and forehead and some on my chin. this foundation worked wonders for me. im only 14 but i have acne so i like to cover it. the backstory to how i found out about this foundation is because my grandma had a light color that she was too tan to wear so she let me try it and i was amazed. i use the sponge it comes with and it gives me an airbrush effect. i have oily skin and this foundation stays. i get a little oily during the day around my nose and forehead but thats usual for me. i always set it with a powder since i do have oily skin and i usually wear blush so it stays. i dont use a primer but every once in a while ill use my porefessional. also i dont think it breaks me out.

Good stuff
I am very fair and neutral and on the norm CG products tend to be pretty pink in the lighter shades. This product is not. It is a perfect neutral fair beige. The color honestly looks too dark in the lot but it goes on and dries lighter. That made me happy. The wear time is good. I've been getting about 10 hours solid with primer and only touch up my nose because I am constantly wiping my nose with tissue(don't ask. It's a thing) and my chin because I tend to rest it in my hand when I work. This blends like a dream! I use my Sonia Kashuk flat powder brush and just pat it on the product. It doesn't take a lot. I buff it in with the brush and it covers really well on the first go round. It's not cakey and dries to a very natural finish. It isn't full coverage. It's medium but can be light depending on application. I am happy with this even for summer. It holds up well in heat.

CREAMY!!
I kinda have second thoughts of buying this product because i haven't tried any cream foundations yet but i was amazed because it has a combination of foundation and a olay. i love olay as well as covergirl. It has a durable kinda plastic packaging where you can twist the lid and get the product and underneath you can see a small sponge. The product is actually creamy, you've got to mix both olay and CG using a blush/stippling brush and buff it onto your face. This technique help minimize pores and create an airbursh effect.. I really liked the coverage and it covers my redness and blemishes well. It's pretty amazing and blends well. Honest opinion: it does not cake for me throughout the day but if it cakes a mist or a powder is ready to the rescue.:)) heheh

I have recently started experimenting with makeup and foundation is last on my list to play with. There are so many different types of foundation and it is really intimidating. I ended up purchasing this Simply Ageless foundation because it looked like something I could handle. I have recently graduated to a different foundation but I will definetly keep this one as a backup. This swatch is actually too light for my skin even though it looks darker in the pot. It is very smooth and light, you can't even feel it on! which is great for this humid Miami weather. I totally recommend it to whoever is starting out with makeup and not brave enough for liquid foundations. Or even for just a casual, everday foundation.

I love the finish you get in this foundation, its beautiful, however.. after lets say 2 hours the foundation is a different color then when I put it on, its like a salmon color lol. I find most of the cover girl foundations go pink on me after a couple hours, but I do love the finish of this foundation. And it feels great too, it's not heavy feeling.
---