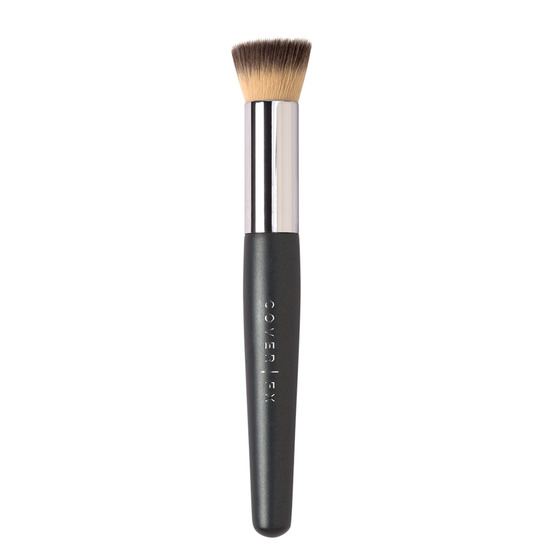 Rollover image to zoom
Reviews

Good Brush
I like using this brush to apply cc cream, works like a charm and it's easy to clean... It is holding up very well considering I wash it after every use. It dries completely overnight ready to go the next morning. I wish it was a little bit bigger for the price.

perfect size/ good weight for handle
This is one of my favorite brushes because it feels good in the hand and is a convenient size. It is small enough to get around my nose and under the eyes but large enough that it won't take forever to put on foundation. It is also easy to clean and the price is very reasonable for a foundation brush.

Staple for every day!!
Most days I prefer a thin layer of (Charlotte Tilbury) foundation and find that this give the best look. I've experimented with different foundation brushes (the flat style,) just using my fingers, using my BeautyBlender but this one is the best.
I'm able to buff the product into my skin, it keeps the effect very dewy, gives really great coverage but still looks natural. I use my BeautyBlender to pat on concealer on the days it's needed but always finish with this brush to give me a natural, almost airbrushed look.
Don't forget to clean it regularly to keep your skin clear!

LOVE!!!!(:
I always use liquid foundation so when I put makeup on I always use this brush and I live the fact that it's affordable. I actually got it in sale at saphora...LOVE RE-BUYING if I need a new and I would definitely recommend this product to anyone seriously it's amazing!!!!(:

Surprisingly really good!
Just wow! This is one of the first foundation brushes I've used and it is amazing. It's a really good foundation brush for stippling light weight liquid foundations. It's super soft and easy to use also. I took a star off only because this brush absorbs a bit of the makeup, but overall a great brush to have.

So soft !
I love this brush. Its so soft and small it gets in areas like the middle of the brows and the sides. the number one reason I'm a huge fan is bc it's so soft. it was my first high end foundation brush and I would with out thinking it buy it again

This is probably one of the brushes I dare not leave, t's become a staple and I use it for bb creams and liquid foundation. Does an excellent job of giving you that even look, helps conserve expensive beauty products as is applies the product well. The brush is ultra soft and dense and yes it is small but for a tool that is a must-have in your travel bag or purse, the size is just perfect! Get one, ladies!

Super soft and amazing!!
This brush was exactly what i wanted and needed!!! What i love about it most is that its so soft and works amazing to makes my foundation look air brushed. Also its a great size to carry with me as i carry all my makeup and brushes in my purse that i used for my look that day so that's very important for me. This brush does not waste any product either and is easy to clean. I would definitely recommend this to anyone looking for a great quality brush!!! I will be ordering more from Cover FX, as i am very impressed in the brand thus far!!!! Also thank you to Beautylish for your fast shipping and outstanding packaging!!!!
---