Swamped - Mineral Eyeshadow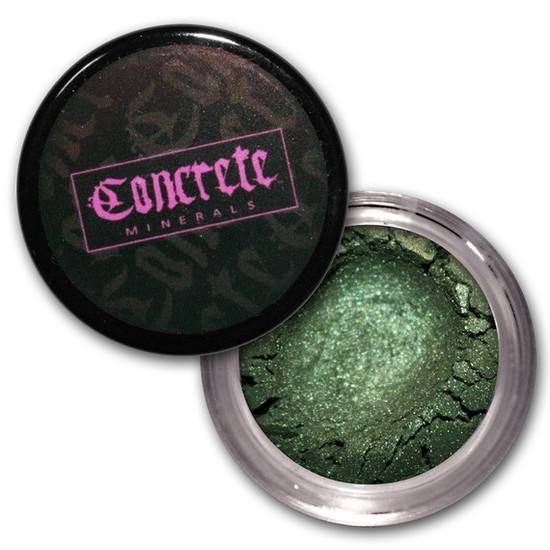 Rollover image to zoom
Reviews

Gorgeous.
I wasn't expecting to really be blown away by this color, even though I adore greens, in the pot, it just sort of looks so-so. But once I put it on, I was absolutely blown away. I think I remember exclaiming, out loud 'OH MY GOD' It is THE most gorgeous green color, with hints of gold in it, I seriously don't own anything like it. This quickly took the top spot on my all time favorite CM shadows.

Dont let the name fool you, Its Gorgeous!
I came across Concrete Minerals on Facebook while we were all pushing to get them to 2000 followers which was an amazing time! I ordered swamped because i am recently getting back into greens & since i enjoyed all the other dark, smokey colors why not! I purchased mine for $6.99 but had a 15% coupon for being a returning customer on there website.
-California indie makeup company, VERY professional & Amazing Photos to display products -HUGE screw top jars of pigments (twice the size of glamour doll eyeshadows) -Great prize for the amount of eyeshadow you will be receiving for endless looks -High Shine & Pigmentation, Very buildable color and looks great wet or foiled -I always use with a base and they last ALL day for me, Swamped is GREAT for a smokey look or for a peacock inspired look! -Swamped is a gorgeous darker green with Gold hue undertones that pair with other golds/oranges perfectly. -Loose mineral eyeshadow so fallout will occur -Purchase online on Concrete minerals website
For a 10g jar i will not be running out anytime soon!! These colors pack a punch that is what our makeup community needs! I even have these in my professional kit. I use a base & foil my often, then set with the eyeshadow. Although i dont always have time to foil it really makes a difference and i always get compliments when i wear this green! It works very well with my blue eyes!

Great for Smoky Eye
When I got this color I was not sure how I would wear it. But after playing around I love it! I have created many green smoky eyes with this color, it also pairs great with a golden shadow like Ruse from Concrete Minerals. Its very pigmented and goes on the eyes nice with out layer after layer.
---