Instant Heat 3/4" Curling Iron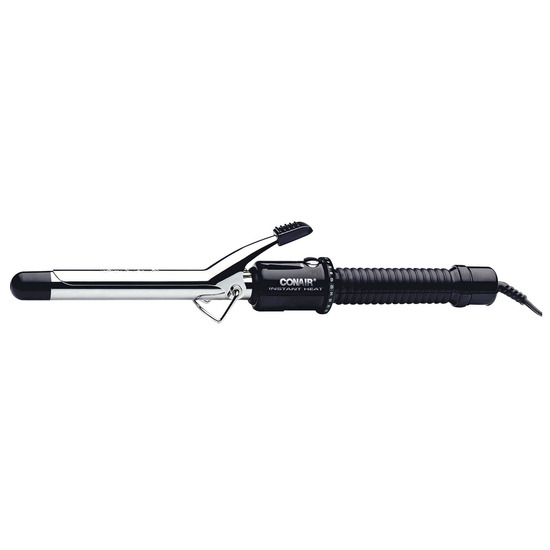 Rollover image to zoom
Reviews

My cheap n lovely friend, Conair 3/4"...
These aren't expensive curling irons. That said, my Conair has yet to really let me down. I've had it for years and it hasn't crapped out yet. It curls, afterall- and like, that's kind of its only job- so I'm happy enough.
The heat dial is kind of a joke though because I always have it on the hottest setting possible (even with my bleach-blonde dew over here) and I still have to hold it for what feels like FOREVER to get a curl. But I get one. So yeah.

Best Curling Iron I've Ever Had!
I use this every time I curl my hair and it never lets me down! It makes perfect curls and doesn't pull out my hair! I also have had my friends try it and they all love it. It also works super well on African-American hair. (all my friends are black) I would recommend this to anyone. Perfection!

Best Curling iron ever!!!!
This is the best curling iron ever and I bought it at wal-mart. It gives you the best curls every and they stay too. It heats up very quickly,with nice heat settings.I use this curling iron everyday and its perfect for all hair types. You need to buy this right now,you wont regret it.

These curlers are very good. They give you the most beautiful curls that you want. I've had these curlers for 7 years and they never gave up on me when I want to achieve beautiful goddess curls or give myself some beach babe waves. Just be sure to clean your curlers after. Hair Hygiene is very IMPORTANT.

Really love this iron for long, more "wavy" curls. I've never tried to do super tight curls with it since that's not really the style of my hair, but the barrel is really smooth and it doesn't tug my hair at all. Also really good when you're in a hurry and every minute counts, since the turbo heats the iron very quickly

Stephanie A.
Nov 19, 2011
I've been having this curler for a couple of years now and it always gives me perfect curls. It's so easy to use i can finish curling my hair really fast and the curls last all day for me. It glides through smoothly and it doesn't tug on my hair. I think its great for anyone that doesn't want to spend a lot on a curler. It does the job .

Great curling iron for the price!
I got this curling iron a few weeks ago for spring formal. I've used it almost every day since! It makes the perfect bouncy curls! You can see the curls it made in one of the picture on my profile! I highly recommend this curling iron! I got it for $11 and it is worth every penny!(:
---