Ultra Shimmer 88 Eye Shadow Palette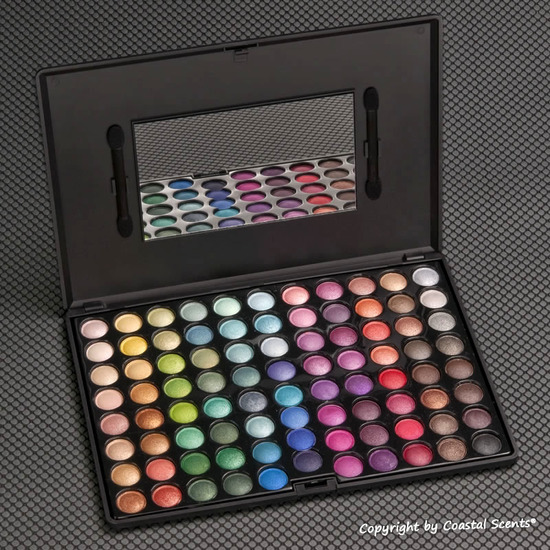 Rollover image to zoom
Reviews

My first REAL palette
i have owned this palette for about 2 years now. The shadows come in dime sized pans and it has ALL the colors you'll need, especially if you are into bright colors! I will say that some of the colors are more vibrant than others but nonetheless beautiful. The shimmer aren't too over powering or glittery. Glide on smooth and blend very well. Great for if your just starting out with makeup and you down want to spend an arm and a leg on other palettes out there.

Great for those of us who can't make up their minds :)
This shimmer palette is so awesome for people like me who always tend to buy the same eyeshadow colors (neutral, neutral... neutral...). This is a good go-to palette for adding a splash of color to your everyday look, or for playing around. The pigmentation is great in this palette (shimmers tend to have a better color payoff than matte shadows). There are almost too many colors to choose from!
This is also really great for blending, as there are a lot of transition colors to choose from. I definitely think this is a staple for eyeshadow junkies!

I love this product, although...
I absolutely love this product! It has great, pigmented colors, and such a variety. This is a good palette for beginners who like shimmer. The downside to this palette is that the shadows are quite powdery! I get lots of fallout from using these, and it sticks to your face. If you get this palette, be careful about applying the shadow, otherwise I would really recommend this palette! A great amount of colors to choose from.

You can't really beat the price for this product, as you get 88 amazing eyeshadows for about $20. The eyeshadows themselves are not that large(about a dime size) but are amzingly pigmented, and even better with a primer. It has a great selection of colors for those that like to expierement with different shades. It's a great way to get further into makeup and learn more about it and expierement. The only down side is a lot of the times you find certain shades/colors are going to waste, because you just don't use them. Also you don't know the shades of each color so if you truley fell in love with one...you have no idea what it is.

Fallout!
These eyeshadows are very powdery, that's why they seem so pigmented when you swatch them. Unless you use them super carefully, you'll get a lot of fallout, and they can look rather patchy. If you use really good bases and don't have a problem with fixing the fallout, than it's definitely a basic that you need. Just don't expect the world out of it.

good if you don't own a lot of makeup
I'm really not that big of a fan of these palettes. I know they're very inexpensive and therefore I can't expect a whole lot out of them, but still I think the price was a bit high for what I got. The shadows are very small (about the size of a dime), but very bright. The color pay off is pretty good on most of them, but terrible on some. I've found that they don't last very long and it's important to wear a primer underneath otherwise they just fade away. The worst part about this palette is the smell. I had to stop using it because every time I open it, the smell makes me feel sick. To me, it smells like old, cheap makeup. It's hard to describe, but it really is not nice.

if you love shimma get this!
First eyeshadow palette I ever got from my boyfriend. It is awesome. It's lasted 2-3years now. I love it. It's got all the colors in the rainbow. Well pigmented. Only think is don't drop this palette or all the eyeshadows may pop out and you're going to have to super glue them back in...
---