Ultra Shimmer 88 Eye Shadow Palette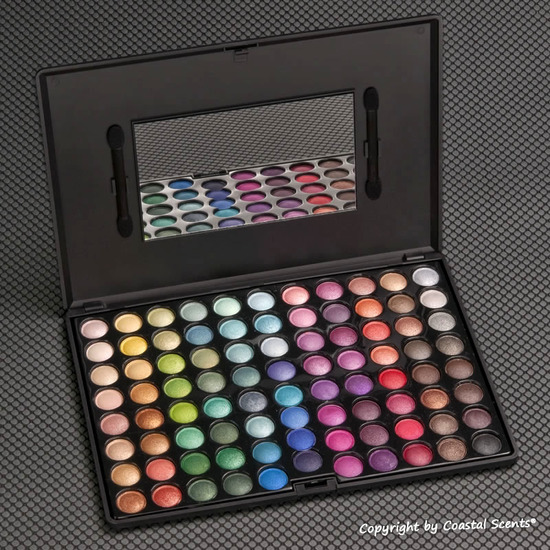 Rollover image to zoom
Reviews

I love the variety of colours in this palette and there is a pretty darn lot of product you get. It cost S$39.90 only for 88 colours. This is really crazy; I don't think that I can finish using this xD I love the shades of blue and greens and of course the highlighting shades. There many different tones of colours that can fit into any look. I must say that some colours do fall out and are not as pigmented. But overall, I would recommend this to people who loves shimmer and colours :D

I love this product, although...
I absolutely love this product! It has great, pigmented colors, and such a variety. This is a good palette for beginners who like shimmer. The downside to this palette is that the shadows are quite powdery! I get lots of fallout from using these, and it sticks to your face. If you get this palette, be careful about applying the shadow, otherwise I would really recommend this palette! A great amount of colors to choose from.

Fallout!
These eyeshadows are very powdery, that's why they seem so pigmented when you swatch them. Unless you use them super carefully, you'll get a lot of fallout, and they can look rather patchy. If you use really good bases and don't have a problem with fixing the fallout, than it's definitely a basic that you need. Just don't expect the world out of it.

if you love shimma get this!
First eyeshadow palette I ever got from my boyfriend. It is awesome. It's lasted 2-3years now. I love it. It's got all the colors in the rainbow. Well pigmented. Only think is don't drop this palette or all the eyeshadows may pop out and you're going to have to super glue them back in...

Only one flaw...
I looooove this palette! It has great quality and the price is ridiculously low for what you're getting. My only problem is that the shadow pans weren't glue on very well. I was at my dorm and putting on my makeup when one of my yellow eyeshadows fell out and down the sink!!! :( It was a sad, sad day.. I almost lost another color but caught it before it could follow the yellow. My advise is to be very careful because you never know when a shadow may pop out. I still recommend this palette to anyone.. especially when on a budget :)
---