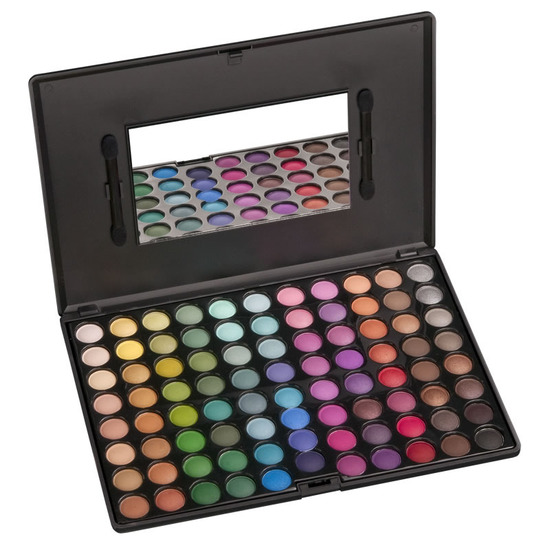 Rollover image to zoom
Reviews

Love
This is a really good "go to" pallete. It has every color you could need. The pigmentation is great for the price...all you need is a good primer. I also find it strange that people complained about fallout. I travel with my pallete all the time and it has stayed in tact for over a year. I would recommend keeping the bubble wrap and box it comes with!

love it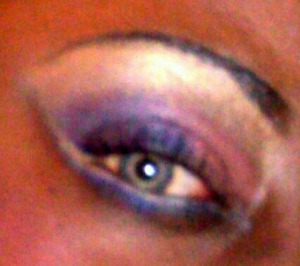 I have a few of coastalscent palettes the first purchase was the pans and an empty palette. After that needless to say i was hooked. Now i have 8 palettes from them. I love the fact that when you order it comes super quick. I love the colors. It blends super easily and the shadows are soft and very blendable. There are also many colors to choose from a wide variety to choose from. A good buy.

Coastal Scent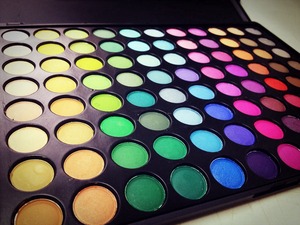 I know this palette from many beauty blogger . make up Guru Not highly pigment:( I have to use the eyeshadow primer to make colours stay. But it's ok. There're a lot of beautiful colours.

Everything I expected it to be!
I first saw this palette on Michelle Phan's videos & thought it would be really expensive. But when I found out it was $18, I was really surprised. I got it for Christmas & use it almost everyday! I am more biased towards darker shades, but when I do colorful looks, this palette is great! The shadows are matte & opaque; hardly no shimmer & the colors show up well. Definitely a fave!

Not "highly pigmented" at all, but okay for a cheap product.
I purchased my palette brand new from eBay for $9.00/free postage. So yeah that's pretty cheap and I shouldn't complain. However I think this palette was very over hyped and doesn't live up to the amazing reviews its been getting. Not all colours are super pigmented, even after applyng foundation, eye and face primers. I find that you have to apply the same colour over and over to get a good vibrant result. Once the shadows have settled they do hold up well, but they smudge and blend away very easily when applying. I would recommend this palette to someone wanting to experient, who is on a budget or who is just starting out. But i'd never use this palette on clients.. The shimmer to matte ratio is bullshit. Most of the vibrant colours are matte and alot of the natural-glam colours are shimmer, which I dont like at all. They have alot of light white cream colours that are all very similar and hardly show up, yet hardly have any nice dark colours. I probably wouldn't purchase this exact palette again, i'd find one in a different brand or with darker colours.

Alli Rose G.
Mar 15, 2013
It gave my skin a rash!
I got this as a Christmas gift. The pigmentation is iffy. Some of the shades are amazingly pigmented, blendable, and smooth. Almost all the greens are no problem, the reds, and browns. However, I have very sensitive ecxema prone skin. The shadows made my eye irritated and red. It made the outer corners of my eyelids red and cracked. I was playing with my makeup and put colors all over my face, and my neck got a rash. I want to say this is decent, but because of my skin reaction I just can't recommend it at all.

I love this palette!The colors are very pigmented,and easy to blend.Staying power is good,i have oily lids,and on my eyes colors stay quite long... Yes,there is fallout,but much more expensive eyeshadows have a lot of fallouts as well... Altogether,for that amount of money (around 20$) you get 88 really great colors! If you ask me,that's a great bargain :)

bargain in price, and quality.
First off, for what you pay for this (which is like $20-25 if I remember correctly?) it is a total steal. So many beautiful color choices and so pigmented, how could this not be perfect for your collection? However, expect a lot of dusting and fall out onto your face. Their staying power isn't the greatest either. Still its nice to have these around for the rare times you find yourself in need of a pretty specific shade or bright shade. I also have the metal mania palette I believe, which has gorgeous colors as well.
The packaging is nice, I expected it to feel much cheaper. I haven't used my palettes heavily, but they stayed in very nice shape.

I think this is a good deal for all the colors you get. The quality of it was alright for me. I read a lot of reviews saying they were so pigmented and what not but for my skin, it's quite chalky and u have to really work it in to get the color to pop. Even with a primer it was still to chalky for me. I recommend this to starters and people who want to practice with makeup.
---