28 Piece Eye Shadow Neutral Palette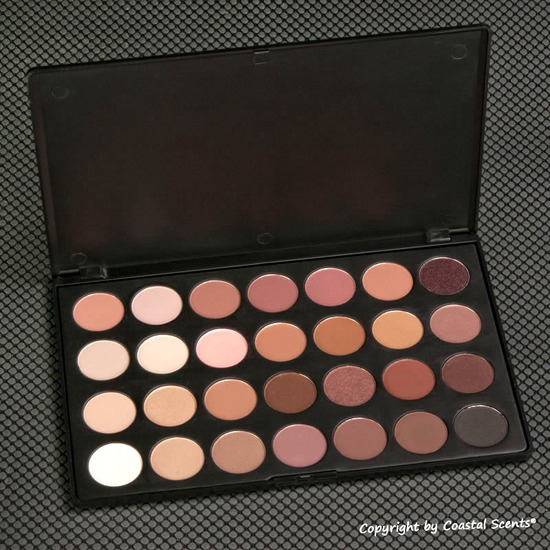 Rollover image to zoom
Reviews

A palette for everyone!
This is a great eyeshadow palette for all different skin tones. The colours range from beautiful creams to the blackest black. The palette also contains a beautiful dark brown/black with red flecks, one of my favourite colours for shadow eyeliner! I use this palette daily as its great for natural looks but can also create the perfect smokey eye! The palette itself is lovely, I have the matte black case. Very light in weight and easy to carry with your kit.

My everyday palette
I must say that this is my go to palette for everyday. This is the best neutral palette in my opinion. Although I love the "Naked" palette, I prefer this one instead. Thank you coastal scents for this product.

I bought this palette years ago when I was first introduced to Coastal Scents. This palette is perfect for bridal or everyday looks. I love that the shadows are very easy to with and blends easily. I do think a lot of the colors do look the same but it's not a huge deal to me. If you love soft neutral makeup looks then this palette is a must have.

A MUST HAVE! 28 NEUTRAL PALETTE FROM COASTAL SCENTS
I THINK EVERY DIVA SHOULD HAVE THIS PALETTE IN THEIR KIT FOR WEDDINGS,NEUTRAL EYE LOOKS, SMOKEY LOOKS AND MORE . I WOULD ALWAYS KEEP THIS PALETTE AT HAND. THE PIGMENTATION IS JUST AS GREAT OR EVEN BETTER THAN SOME DRUG STORE AND BRAND LABELS.

Can't believe I've been sleeping on this!
I have had this in my collection for quite some time but just really got around to using it. I love it! All you need, as with any eyeshadow, is a good base. I use M.A.C.'s groundwork paint pot. I lost one of the shadows in the palette while moving so I may purchase another one because the one I lost was such a pretty matte brown.

For someone looking for inexpensive shadows, I think that Coastal Scents 28 Neutral Palette is fantastic but I found the color pay off and the consistency of the actual shadows to be kind of chalky. I was kind of disappointed but you pay for what you get.

Sarah Louise H.
Jan 06, 2011
Love it!
I really love this palette! I love how affordable it is and how great the colours are. They are really pigmented and blend nicely, I actually bought it because I wanted the Naked Palette but it wasnt available at the time.. lol and Im very happy with my purchase! And its great to use on clients!
---