26 Shadow Blush Combo Palette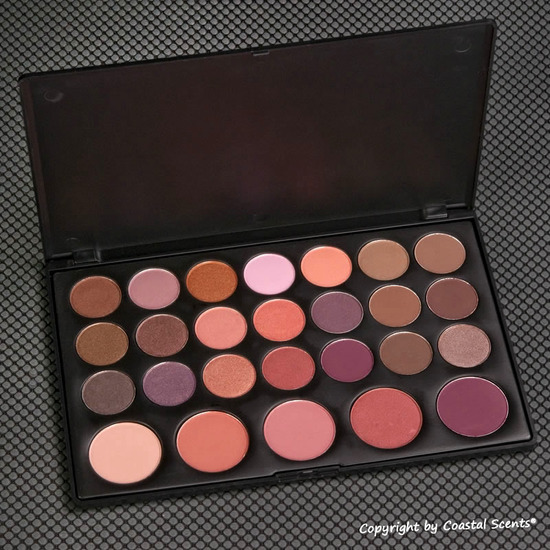 Rollover image to zoom
Reviews

Amazing
The blush shades are incredibly pigmented. Coastal Scents is my all time favorite makeup brand, I reach for their shadows more than I reach for my Stila, Mac, Too Faced, etc shadows/blushes. The shadows are creamy, although I do prefer the single hotpot shadows over ones that are in the palettes I own, these are a close runner up.

I've been using this palette too much!
Not too much to add to the already great reviews. The color combos are endless. An almost perfect mix of shimmers and matte colors great for any skin tone. The blushes are beautiful and can be used as shadows too. My only complaint is that there is not a black shadow in the lineup, not even a dark brown. That is what stops this palette from being the only thing you need to pack for a short trip. You'll still need to bring a black or dark brown shadow to round it out.
Otherwise, the colors apply remarkable well. A few of the colors seem to need a couple of more layers than others, but for the price you really do get a great product.

26 combo
This palette is better than what i anticipated! i bought this for travel purposes. What really got me interested in this palette are the blushes.Unlike the 42 Double Stack, I can use EVERY color(ES and BLUSH) in this palette. I got sick of traveling with 3 or more separate blush compacts along with eyeshadow. I needed to practice warmer looks and this palette has not steered me wrong!

Absolutely Great Product
I absolutely love this product. I love how it's neautrals but with colour. Im in love with a dark brown on the very last column and Ive already hit pan on that colour. I also love the burgundy colour that is used as an eyeshadow and a blush in this palette! They're very smooth and pigmented but some are too smooth and very delicate. I know I will be repurchasing this as soon as Im done with it!

Great variety of shades that give you countless options for different looks. You can easily do a natural look, an every day look, a smokey look, etc. This palette has awesome rich tones with great pigmentation. Each shadow is the same size as a MAC shadow. The blushes are also awesome. Great pigmentation so a little goes a long way.

Though i have tons of eyeshadow quarts n duos this palatte is by far my most sought after one!!...its fantastic especially when i do makeup for others i dont really need to carry much stuffs!! The colours are incredible!!and its worth the money as well...my fave blusher comes from this palatte its the peachy one!!even the pinkish one is really nice :D the mix or shimmer and pearl finish shadows are just wonderful and so easy to blend out.. looking forward to do more looks with this palatte..have already done lotsa looks with the palette but still theres room to explore more looks!!!
if you love warm colours...this is the palette for you! :D
---