10 Piece Professional Blush Palette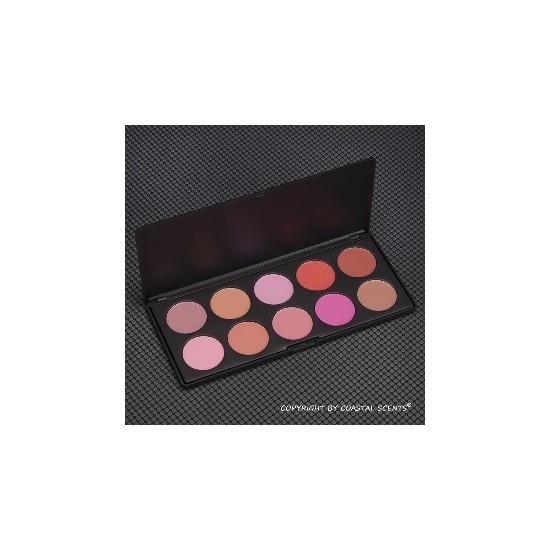 Rollover image to zoom
Reviews

Sebastien C.
Feb 16, 2013
Really nice
Great palette that I like to use for blush *obviously * and some color as eyeshadows ... The payoff is amazing for colors as fushia , orange ,... It is real that they are quite powdery but I always tap the excess ... The palette have a good range of matte and shimmery ; soft and bright ; cool and warm . Overall this palette is really versatile and cheap. ;)

This palette is really great and affordable (when I bought it was on sale for less than 10 $!!).The colors are very pigmented,they last all day,some of the darker colors you can use to contour the face,so this is blush and contouring set :) You get a lot of colors,cool and warm,so you have something for everybody's skin type,and a lot of product that will last you for quite long time... I love it! :)

I'll buy it again
I absolutely loved this palette! There are blushes that are warm and cool, lean pink and orange, and a variety of finishes. They are all incredibly pigmented and with enough product in each pan that one won't go through any one blush in a short amount of time. Nearly everyone can benefit from this palette. There is a hard plastic case with an ok closure. I've taken this blush palette travelling and have yet to have it open or the contents break on me. I wish it would have a mirror, but it would add to the weight and probably cost more. I appreciate that Coastal Scents labeled this palette so it's easy for me to tell the difference between this and other palettes without opening the case.

I'm impressed
I am so happy with this palette. The range of colors is perfect and the color payoff is better then I expected. The color lasts on your cheeks all day and for the price I paid I wasn't so sure I would like it but I am impressed. If your looking for a good blush palette then I would definitely go with this one!

good deal
i have this palette and i often forget that i own it. i love the variety of colors and finishes. it has good pigmentation but some are a little bit chalky. not too bad though because they can be blended out easily. if you want that glowy msf look i suggest using a duo fiber flat top brush like mac 130 to blend.

This blush palette is excellent for beginners starting out in make up and want a variety of shades to play around with. I should use this palette more often. Even though a lot of the blushes look different in the pan some of them look alike when applied on the skin which isn't a big deal to me. They do blend nicely. These blushes are very pigmented so most of the time I would apply these with a fan brush and keep layering on the color until I achieve the intensity I want.

This is a pretty cool blush set! I lbs the colors and I can even find use for the lighter shades. Nothing will to to waste. My favorite is the hot pink shade. I'm very excited about this and I think I will be even more excited during the summer.

AN AMAZING PRODUCT COASTAL SCENYS BLUSH PALETTE
THIS IS THE ULTIMATE BLUSH PALETTE FOR ME,I USE HER EVERYDAY WHEN APPLYING FACE AND I ADORE IT. THE COLORS IN THIS PALETTE GREAT FOR EVERY SKIN TONE.THERE WAS ONE COLOR IN PARTICULAR I WAS SCARED TO USE IT WAS THE ORANGE COLORED BLUSH ,UNTIL I SEEN A COUPLE REVIEWS OF OTHERS USING IT WITH SKIN TONES CLOSE TO MINE THEN I TRIED IT AND LOVE IT TOO.
---