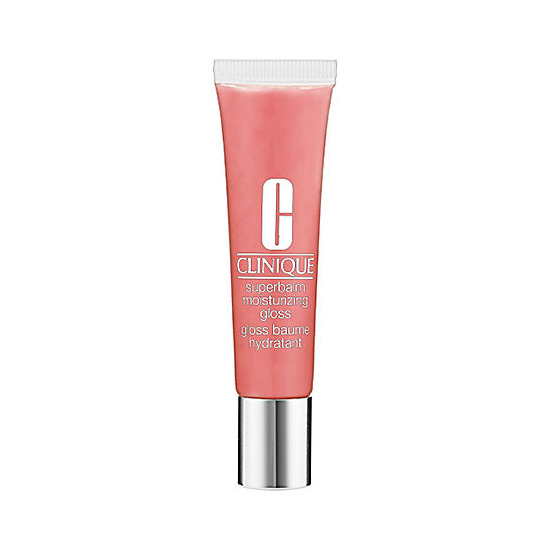 Rollover image to zoom
Reviews

Cant Get Enough!
So, during my monthly browse of Macy's Department Store, I once again stopped by the Clinique counter to say hi to my friends. They were busy with a customer at first, so while I waited, I browsed. I swatched a few eye shadows and blushs' , and work my way over to the lip section. Even though the SUPERBALM MOISTURIZING GLOSS was hidden behind numerous lipsticks, it some how caught my eye. I opened it, swatched it on my hand and dabbed some on over my lipstick. OMG! I instantly fell in love! The thick(NOT STICKY) consistency of the gloss makes it long lasting and helps your lips appear more plump. It is now my go-to gloss over nude lips! An absolute must have!

One of the best glosses out there. Moisturizing, long wearing, great hint of color without the tacky texture that a lot of glosses possess (even high end ones). You can even just apply it to chapped lips and it won't accentuate anything, but seriously treat them right then and there.

Will purchase full size!
I am a big fan of the Long Lasting Glosswear, and when this came in a GWP I was excited to try it out. Raspberry is the most beautiful "your lips but better" shade and it is super moisturizing and shiny! When my sample runs out, I'm going to buy more colors for sure!

Great non sticky balms, don't expect a lot of pigment!
I loveeee Clinique superbalm glosses! I originally used their regular superbalm formula, so when they came out with tinted gloss shades I was PUMPED!
I've always been on the hunt for lip products that would give a dewy, not glossy looks to my lips without the sticky texture of regular lip gloss (MAC Lip Glass on a windy day, enough said.) My top two favorite tinted balms have to be Clinique Superbalm and Prada lip balm. The aforementioned is very much cheaper than Prada's, so I'm definitely more drawn to it :)
I purchased Ginger, which, in the tube, looks like a non shimmer muted melon shade. On lips, it shows up clear with a hint of coral, and brightens up my face nicely. For $14, Clinique gives you .5 oz of product which is a pretty good deal for a high quality mid-end brand like Clinique. It's great to throw in your purse if you're on the run and want an incredibly moisturizing, lovely textured balm to give supple shine and a small hint of color.

This gloss is very moisturizing.
Years ago, this gloss used to be my go to lipgloss. I've moved on to others. However, It's very hydrating, its long lasting and it is super shiny. You get way more product for your buck , compared to other brands of glosses that are around the same price and above.

Mary Anne M.
Jan 13, 2013
Moisturizing, Long-Lasting, Sheer Tint
I'm usually not fond of lip glosses because of how sticky they feel on the lips, but this one is one of the least sticky ones I've used thus far. When it sets, it doesn't feel slippery; it sits on the lips comfortably and hides dry, chapped areas really well for hours. I wouldn't say that this isn't sticky at all; I can still feel it when I smack my lips together, but the stickiness is truly, barely noticeable. The gloss lasts about 4 hours (2 during the dry seasons) on my dry lips before it disappears, but it does keep my lips moisturized throughout wear.
This is also definitely a sheer lip gloss, as I've noticed when swatching deeper shades like Currant. It's great for natural lips with a tint of color, or as a topper for lipsticks. Mango has a slightly shimmery, orange tint and is great on its own or layered over a lipstick, especially dark ones as it shifts the shade warm and adds a little sparkle on it.

Nancy-Lee C.
Mar 07, 2011
Just shine no pigment
This is not the same consistency as the balm in the green tube sold in their skin care line. This is a little thicker but thankfully not sticky. It provides excellent shine and is super moisturizing. The gloss dispenses from the squeeze tube easily and a little goes a long way. *Here's the but* But... The applicator tip of the vessel stars to smell a little weird so I have to clean it and the cap well about once a week. lol. I have purchased these in the past but I probably won't, moving forward. I'll stick with the original green tube.

Good
It's good... I don't jump for joy over it. But it's descent I have it in Currant and Lilac and both look identical on my lips and in the packaging...so .... idk maybe mislabel? It's very very sheer and it is a little bit long wearing... I dislike the squeeze tube form but it does give a good shine.. I would prefer a little stickier but it's alright... I just like to know that my lipgloss is still there without anybody else knowing i'm checking by taking out a mirror.
---