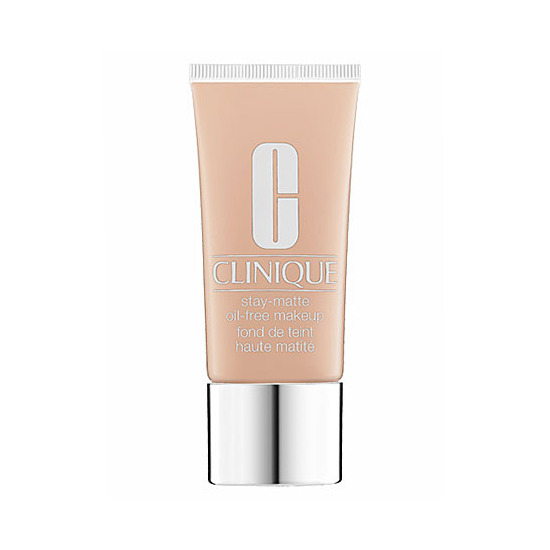 Rollover image to zoom
Reviews

I like it!!
I really like this foundation, although it doesn't control shine all day it is mire successful than a lot of other brands. It's a bit pricey but definately worth it! My skin is extremely oily and oil ususally shows up about 30 mins after applying foundation and powder but this lasts at least 4-5 hrs which is amazing for me. Definately recommend this!!

SO IN LOVE!!!
I AVERAGE 6 SHADES THROUGHOUT THE YEAR, THAT'S RIGHT 6 SHADES. WITH THIS PRODUCT I CAN NARROW IT DOWN TO 3 ( GINGER, AMBER AND CLOVE). I STAY FAIRLY MATTE ALL DAY, MORE THAN ANY OTHER FOUNDATION I HAVE TRIED. I ALSO HAVE SENSITIVE SKIN AND HAD NO NEGATIVE EFFECT EITHER. PRO: BUILDABLE COVERAGE MATTE FINISH VARIETY OF SHADES BLENDS VERY WELL
CON: IN-STORE PRICE (CLINIQUE.COM HAS REGULAR 50% OFF OR 2 FOR 1 SALES W/ GWP)

I love this foundaion
It absorbs my oils, provides a matte finish, and it does not cake up. I love he smooth finish that it gives me! I have had a hard time finding a perfect foundation but I honestly think that i can stick to this for a long long time! I apply it with my ELF powder brush and set with my NYX setting powder and I am good to go. Best of all I am not having to blot my face 4 times a day!

its okay..
I'm a bit disappointed about this foundation. When I applied this on my face, during the day my face starts to shine and look oily. The coverage is good and it does the job, but during the day it doesn't give you a matte all day look which it should do.

Easily my favorite foundation. The color is absolutely perfect, and the finish is as well. My face looks flawless all day. I have natural redness in my cheeks, freckles, and some blemishes, and this product literally makes my face a perfect clean slate. It's so matte, yet not cakey at all! It doesn't get all gross in my dry spots, nor does it get greasy and oily in my t-zone. I love this foundation. I usually stipple it on, and a little bit goes a long way. Definitely will repurchase.

Mary Anne M.
Oct 14, 2012
Tested in 95°F+ Weather: Matte Finish with Great Staying Power
Stay Matte Oil-Free Liquid Foundation is easy to apply, sets quickly to a matte finish, and is comfortable to wear throughout the day. Clinique claims that this foundation was tested in 88°F/80% humidity conditions and while the weather conditions where I live exceed that (95°F–105°F in the summer), this foundation—without a matte setting powder—fares better than other foundations and BB creams by the end of the day. The coverage is medium but because this has a matte finish and dries quickly, it's easily buildable to full coverage, which is great because I don't have to reach for a separate concealer to cover things like dark under-eye circles, acne scars, and other dark spots.
In my current residency's slightly hotter climates, however, this foundation could not control shine all day on its own as I had hoped. By itself, it controlled shine for about 5–6 hours before I had to blot. With a matte setting powder over it, I had a more significantly impressive shine control time at around 8–10 hours. Those in cooler climates are likely to have longer shine control time.
Despite varying lengths of shine control wear time, the staying power of this foundation's pigment is true to its all-day claim. I have not noticed oxidation or fading by the end of the day. While I tested this foundation in climates hotter than Clinique had tested, this foundation is probably an excellent choice for those in the tested 88°F-climate range or cooler, with combo-oily or oily skin. I also recommend that it be set with a matte powder for extra insurance especially in humid weather.

I really enjoy this product!
I am the type of person that finds a product, and if I like it enough, I dont want to explore other options. However, when I was offered a free sample of this foundation, I couldn't say no. This morning, i began to apply the new foundation and i was in love! I cant get over how it has the coverage of MAC products, yet it skips out on the "cakey" look. I was also quite amazed at how little i needed to apply to cover my face. That was honestly my favorite part. I will deffinatly be purchasing and recommending this foundation in the very near future.

Emma Kirstine K.
Aug 8, 2012
WOW, high-end foundations are actually worth the money, or at least this one is !
So, this is quite expensive in Denmark, where i live. I always need long lasting and matte foundations ! I normally i mix a matte foundation with a long wearing foundation, that seems to be my best soution, for my skintype accompanied with the danish weather always rainy or really warm/and rainy in the summer. But with this, i only need this one. It's stays matte, after 5-6 hrs of wear, the shine can shine through a bit, but because it really clings to the skin, i can dap the grease of, without wiping of coverage- and then the foundation is matte again, and seems fresh and just applied, with out reapplying at all! - say what ? at can wear of, if you really tug at your skin, but still it doesn't really budge before you take it of, and i love that about it. You don't really need to set it with a powder, but if your skin is REALLY oily, it might be a good idea. it has medium coverage, but its easy to sheer it out if you want, and also easy to build up if you like ! This is my new HG foundation for sure. I apply this with a flat-top facebrush/kabuki, and it looks amazingly natural ! it feels like your own skin while wearing this!- because its so light weight, but still really good coverage, and the colour fits me perfectly! a little bit goes a long way, i've had this for nearly a week, and i'm not done with the tester at all. i'd really love to repurchase it again and again!
---