Rinse-Off Foaming Cleanser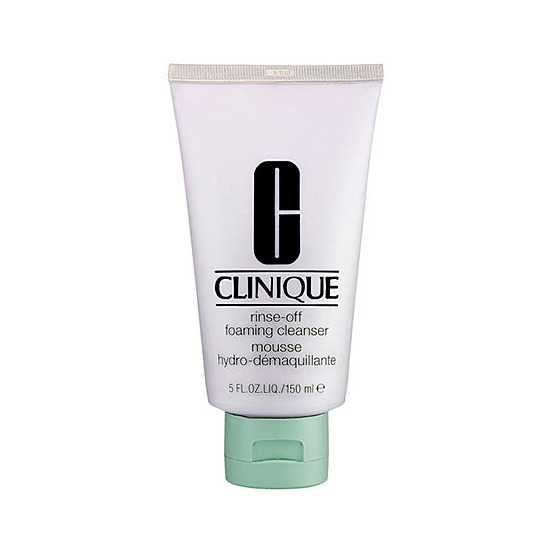 Rollover image to zoom
Reviews

Great cleanser to remove makeup
This cleanser is great for removing makeup. Only a tiny bit is needed to clean the entire face. It lathers really well and cuts through all the makeup I wear. It's a great deal for the price because it will last forever if you use small amounts at a time.

AMAZING CLEANSER!
I use to always use gel cleansers because I find milk cleansers are a little to heavy on my skin, then I tried this cleanser and absolutely love it! A tiny amount foams up, and can be used all over the face, leaves your skin feeling soft! Does not dry out your skin.

Perfect for everyday
My Clinique saleswoman recommended this, and I'm so glad I listened. I've used it for about a year, and I love it. Just a pea-sized amount foams up enough for your whole face, and takes off every trace of makeup (except my waterproof mascara, but that's because I've gotten this in my eyes a few times trying that out). If it's humid and gross, I'll even wash my chest with this, and instantly feel a million times cleaner. It leaves me squeaky clean, and never irritates or overdries my skin. I take the whole bottle whenever I travel.

All over cleanser
I love this product. I know it sounds crazy but I use this to shave my legs, it keeps my legs soft and bump free. I buy two of these, one for my face, and one for my body. I love the way this product makes my face and body feel after a wash it helps my body maintain it natural glow and remains soft. I have dry skin on my face, so I do buy the oil formula so it puts moisture back (the lady at clinique told me that, I listened, and it works!). I love this product.

Excellent product
Now this is the Clinique cleanser that I love using. This is a great gentle cleanser that foams up nicely with just a tiny amount. A tube of this will last you a long time and it's not that expensive to buy compared to over counter brand cleansers. What I love the most about this product is that it can take off all your makeup with just the first wash. I don't even use makeup remover before this product i just wet my face and soak off my mascara and I left the cleanser do the rest of the work. This product is great for sensitive skin and also it does not cause red irritation to my skin. I've had been using this cleanser for years before I discovered something that was even better.

Can't-Live-Without Face Wash
This product easily takes the #1 spot on my All-Time Favorites list! I actually look forward to washing my face every night because nothing feels better than the squeaky clean feeling I get after using this cleanser. I use it as both a makeup remover and face wash, both in one step. I've found that it works great for removing my eye makeup as well, just be sure not to open your eyes before rinsing.
The name of this product might be a bit misleading to some because the consistency does not come out as a foam, it's actually a thick mousse that lathers up quickly with water and forms a heavy foam. It's very soft and gentle, smells nice, and it's light pink- what girl doesn't love that?
I've been using this product for over 10 years and have yet to find a face wash (of lesser value) that even comes close in comparison to this one.

My Cleaning Dream
I love love this product. It actually removes not only makeup but sunscreens too.
I love how silky my skin feel after this. I always equate a great feeling after a cleanser to knowing my face is clean.
and another tip. It's gentle for all your synthetic makeup brushes too. yes siree You hear right You can deep clean your brushes with this. And the fun thing just like the face you can see the colors drain away too.
Lovely little product :)

I like this cleanser it lathers really well. A little seriously goes a longgg way lol. Plus it gets the job done and leaves me feeling squeaky clean after using it.
---