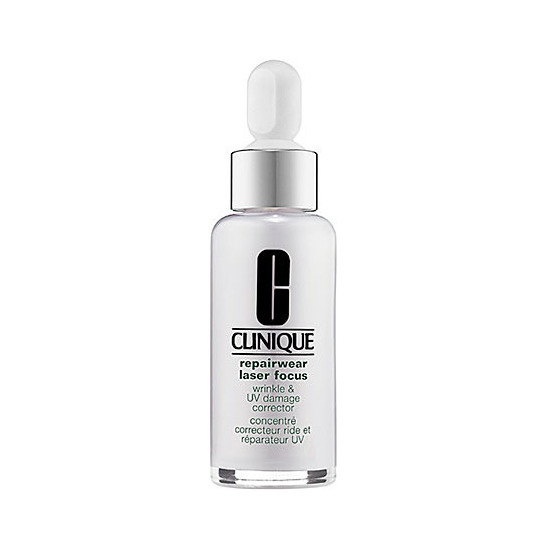 Rollover image to zoom
Reviews

Nancy-Lee C.
May 15, 2011
Yes it works.
First thing: It takes 4 to 6 weeks before you see change. Why not, it takes 28 days for skin cells to mature and slough off. By week 12 (month 3) you will see results that are a little better than half as good as a dermo laser. This serum is step 5 of your clinique 3step skincare system. 1)cleanser 2)clarifying lotion 3) moisturizer 4) Turnaround Concentrate 5) Laser Repair.
The vessel is white opaque plastic with an eye-dropper applicator. You only need to use 3 drops of this product, a little goes a long way. I release 3 drops to my finger tips and start by applying a small amount around my eyes. This formula is safe enough for your delicate eye area. Next I move to the ( ) lines between my nose and mouth. Then I pat the rest all over.
The space between my nose and mouth was the first area that I could see change. It seemed, not plumped up, but the lines had decreased. Next was the UV damage; My age spots were starting to lighten up, which I also attribute to the use of Turnaround Concentrate, a topical exfoliator.
So why did it lose a whole star: For one reason, it is too darn expensive. Clinique prices are out of control. #2 - it broke me out. Not little breakout. Big, cystic acne. And I put up with it for 4 months (until I finished the series). So I stopped using the product and my acne went away. *sigh* And the dropper doesn't get the last bit, you have to tip the bottle over. Towards the end of the bottle, I noticed the serum was thickening a little.
I used this serum day and night, per the enclosed instructions. I will not be purchasing this serum again based on the acne issue. However it does exactly what it claims to do.
---