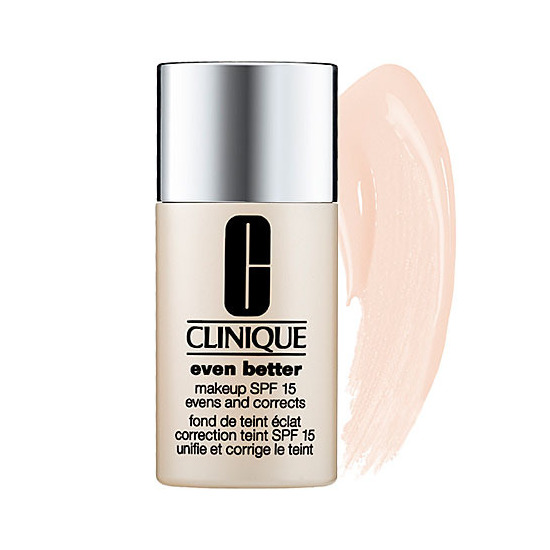 Rollover image to zoom
Reviews

'Evens' Skintone
This is Even Better! I love that in 4-6 weeks you can see dark spots becoming less visible. The shade is totally perfect. I have oily skin and I just set it with powder. It will get oily after 4hrs I'd say, sometimes I mix it with my Pore Refining Solutions (great for oilier people)! It looks very natural. I think at $27 dollars it one of cheaper department store prices. I bought it and got a gift set included. I LOVE Clinique!

Good foundation!
This foundation is medium coverage, it will cover any redness you have, but not huge problem areas. It definitely evens out your skin tone, but since mine has gone too dark for me, it looks a little bit too orange for my face. It is oil free but isn't too matte, it is a satin finish but after a while it does dry into a semi-matte finish. However this is annoying for me because i have normal/dry skin and dry patches are easily shown by a matte finish. So by the end of the day (6 hours?), it has rubbed off in some areas, some redness has shown through, and a few dry patches are showing, but not very noticeable. Overall it is a good foundation for wearing for about 3 hours, anymore time than that it can really start to come off. I would recommend for people with normal/combination skin with a few problem areas. It could work for oily skin but it will most likely come off and you will need to blot/powder throughout the day.

Recommended
This foundation is great. It makes my skin look so flawless. I really like this foundation, and Cliniques CC cream. It is better to invest in foundation with SPF and you do get what you pay for. This foundation looks much better on my skin compared to Cover Girl which I used to wear in high school (lol).

I love this product. It's the best foundation I have ever used. And it's the only foundation that doesn't irritate my skin. It's good for if u have dry skin. I definitely recommend this for anyone.

Fabulous !!
This to me is the perfect foundation from every angle. The finish is silky not matte. It's almost dewy but not that shiny. I had acne scars(minor) and it's the PERFECT amount of coverage. Not overly masky and totally lightweight. As far as the skin tone correcting goes, it takes a while that's for sure but I've been using it for a year now and yea I 100% see the magic. Doesn't break me out ever. I set it with a translucent powder which I like best. Any powder would work but I do recommend setting it. Lasts all day, it's awesome.

Really gives a good coverage if you have any skin spots like, acne scars, sun spots, or uneven skin tone I started trying this make up with the SPF 40 super city block and i have to admit its a lot of layers my face felt dirty/oily but when i used the sunblock with perfectly real make up made it feel less of a cake face. cons: It's a bit pricey.

I've been using this for 4 months now and I haven't even finished it yet! I like how this conceals acne scars really well and doesn't dry out my skin. This product feels so light and is perfect for my sensitive skin. I don't have to use much to get great coverage. I purchased this product due to pink/red scarring on my cheeks due to acne. I have seen a slight improvement in the fading. I use Garnier BB cream first and then apply this product then I set it with a pressed powder. It makes my complexion look phenomenal.

amazing coverage
i love how little you need to use this product... a few drops covers the entire face if you dont want too much coverage. there are times when you dont want the foundation to be too glaring. trying mixing a drop or 2 of you favourite moisturiser during application. good results...
---