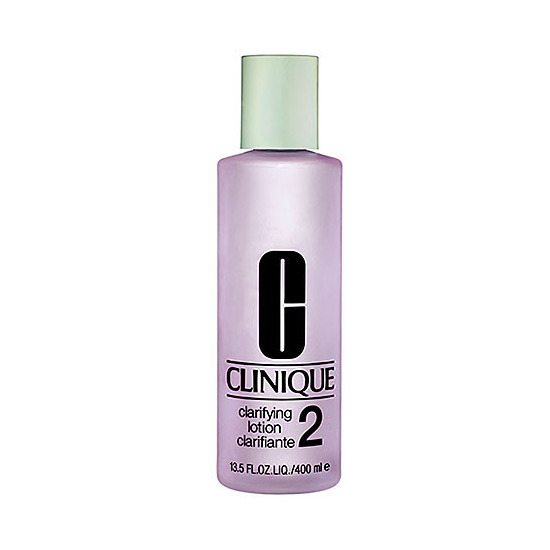 Rollover image to zoom
Reviews

Leaves a tingly feeling
I love this toner! It makes my face feel tight, clean, and leaves a nice airy feeling to my face! I have sensitive skin and it doesn't affect it at all! It has this alcohol smell to it though and leaves my skin dry, but as long as you have the Clinique lotion, you're good. They're a very good combo together and I suggest if you buy this product, you buy the lotion as well! I use this product everyday and I just love it! :)

ALL TIME FAVORITE TONER!
This is the first toner I ever used and I still use it. I think that tells already how much I love it. I've tried many others but I always end up getting back to this one (and my mum has used it for 12 years).
I think that the secret to this toner is menthol, which gives that nice clean feeling too. This toner exfoliates gently and gets ride of all the dirt on your face.

Helps to exfoliate
I like this toner because it helps to exfoliate your skin. It also helps to ensure that all of your makeup has been removed. I use this in #2 because I have combination skin, but they have different ones available. It makes your skin feel really clean.

I got a sample of this from Sephora. I loved loved loved it. I went out and bought the whole three step set. I have sensitive skin too. What the Clinique woman didn't tell me was that this would be too harsh for my skin. Since this is an exfoliating toner, and the moisturizer is exfoliating too, it exfoliated too much. It ended up burning the top layer of my skin on my face, as if I had a harsh face peel. My face is still recovering and it was over a month ago that I stopped using this.

Brittinay F.
Dec 11, 2011
Best Toner I own
This witch hazel type toner is the best I have ever used, because it does not dry out your skin like other harsh toners. It exfoliates your skin as well as strip off the excess oil that your cleanser may have left behind. I would use no other toner, plus this is a decent price too!

I had been struggling for a while to find a toner that would be effective on my oily t-zone, but not harsh on my dry areas, as african american skin is often times oily, yet sensative. I went from Clear Skin Astringent to Sea Breeze Sensative Skin Astringent but it was also to harsh and striping my acid mantle. Instead of helping it caused even more oil secreation from my skin trying to replace it's own natural protective barrier of sweat and oil. It was then I knew a simple drug store brand would not safice. I saw an add for the Clinique 3 step line, so I went in to Macy and purchased the oily-dry clarifying Lotion. It was not until after I saw how pleased I was with the lotion that I purchased the matching cleanser. When my current face balm runs out i'll try the moisturizer as well.

Robert Ivan L.
Sep 26, 2011
If you want a toner that takes care of excess oils, and that you really feel it working, this is the toner for you!
Good for all skin types.
Another great thing about clinique is that you can often get great deals. Like double sizes for the same price and so on! So always look for the big bottles and compare prices.

One of the only toners I can use for my skin! It's amazing and only need a little bit for my whole face. It dries instantly and leaves a clean feeling on your face. It does remove the dirt and oil on my face (as it shows up on the cotton pad) and does the job very efficiently. I recommend to splurge a bit on the product, definitely worth it.

Tried and True
I have been using Clinique Clarifying Lotion 2 since high school. It's the perfect toner for all types of skin. Just enough to combat oily shine, yet gentle enough that it will not over-dry. Plus it's fragrance free. It will always be a staple in my skincare routine.
http://freebeautysecrets.blogspot.com/
---