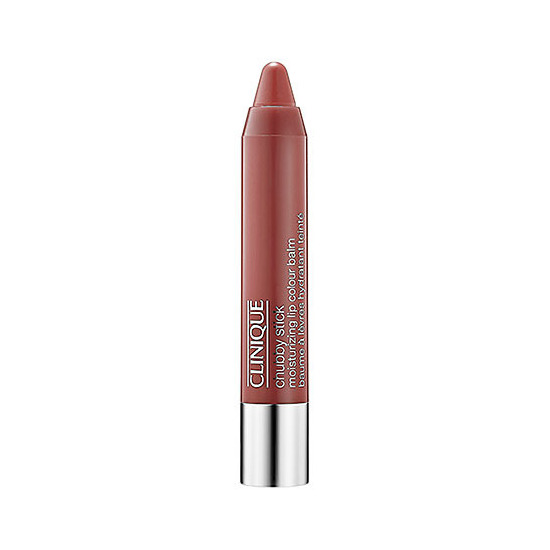 Rollover image to zoom
Reviews

Great lipstick
This was given to me as a gift, and after using quite a few brands of lipsticks, I still think this is a safe one to go for. The color is light, nothing too overwhelming, but it does give some colors to your face. Very moisturizing, easy to apply. Will repurchase in the future.

Ultimate Summer Lip Product!
I know lots of people that don't like to wear a heavy lipstick in the summer because they feel it dries their lips out and this can definitely be the case - enter Clinique's Chubby Stick! These shades glide on like somewhere between a lip liner and a lipstick, and I cannot rate them enough! The colour is really lasting, and they have an incredibly moisturising feel to them which you don't always get with lipsticks; particularly matte ones. (However, you can achieve a matte look with this chubby stick I found by dabbing a little translucent powder in the centre of your lip, just enough to give a finish). I had the Super Strawberry shade, and this is the one I'd recommend to people who want to try it, because it's really versatile and will go with many skin tones.

Fourth Times A Charm
Got this product the first week it came out and didn't really use or enjoy it as much as I had anticipated, so I tossed it in a drawer and there it stayed until I stumbled upon it yesterday. Knowing that everything deserves a second I tried this balm again. Applied straight from the tube, sans primer, the color is beautifully sheer with a silky, nourishing feel on my lips. Within an hour I was already reaching to re-apply as both the color & softness were completely gone. Disappointed, I decided to try it with a primer....again I experienced that disappointing combination of great color, horrible staying power. My final attempt to love this balm was achieved by using it in place of lipgloss, over-top of lipstick; as a quick touch-up this balm works perfectly adding just the right amount of color & shine. Although I was disappointed that this product didn't meet my expectations nor could it be used as intended, I was content to finally find a suitable use for it. PS: Also a great substitute for cream blush especially when seeking a dewy finish.

Perfect for simple summer makeup, easy to use on the go!!!
I saw a youtube makeup tutorial and the makeup artist used this colour and so the next day i went out and tested it on my hand in the store and bought it, and since it is a nice neutral pink colour it is great for day and or evening looks and is easy to use no mirror needed, and perfect for your handbag.

LOVE LOVE LOVE!! This is one if the best lip products I have ever bought!! It may be a little expensive but it is well worth your money… it is very pigmented and stays on long!! 😍😍

I have 20!
I chose Voluptuous Violet because it was the first one I ever bought and it's what started my obsession! I work for Clinique and I don't even wear real lipstick anymore because of these. Te intense line ha better color pay off but both lines are hydrating and te colors are beautiful!
---