'All About Eyes Serum' De-Puffing Eye Massage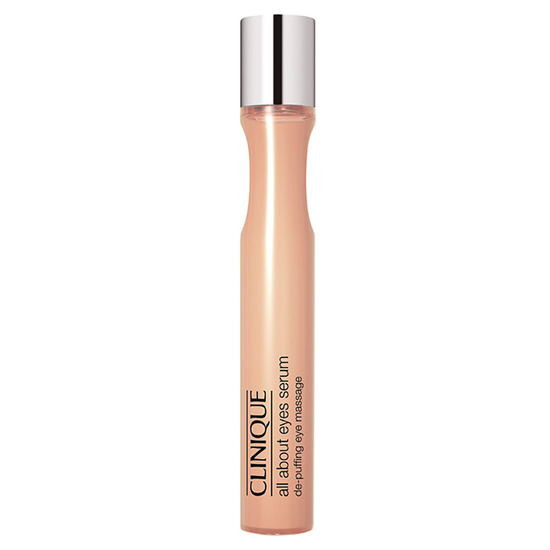 Rollover image to zoom
Reviews

Nancy-Lee C.
Jan 01, 2011
Layering agent
This product is best used when layered on top of All About Eyes Cream. During the summer, I keep it in the fridge, it's ultra soothing.
keep it on your orbital bone, it seems like you will have a lot of product but it will dry down. I didn't see immediate results at first but after continued use my skin was smoother and brighter. The ball roller will distribute product evenly, do it kind of slow, or you will end up with one eye that has more serum then the other.
I have tried L'Oreal Collagen Micro-Pulse Vibrating Eye Treatment and I have to say that was a waste. lol. Buy the clinique serum, save yourself time and get a product that works! I will buy this again, I love it!

great!
I got a couple samples of this I really really like it! it has a tiny sting but not painful actually relaxing:) and it really does depuf and works really great in the spring when I have allergies

It's the best I've tried so far, but still so-so.
I gave it a 3.5 star rating because I DID notice color reduction in my under eye area, though to my avail, it wasn't what I was hoping for. I have had dark circles all my life with no puffiness, but sometimes even yellow concealer doesn't hide it very well. I only used a sample of this which lasted about a month, so maybe after using it longer the results will be much more noticeable? Overall, I like it enough to where I'd buy a full-sized bottle. I suggest staying away from Lancome's version. Lancome's didn't do anything for me and I've been using it for three months now.

THIS MAY BE THE TOP DEPUFFING EYE CREAM IN ALLURE'S BEST OF BEAUTY 2011, BUT IT CAN ACTUALLY IRRITATE YOUR EYES!
Check out this review of Clinique All About Eyes Serum De-Puffing Eye Massage: http://bit.ly/rpY4xO
This product gets a hazard rating of 3 out of 10!
Did you know that HEXYLENE GLYCOL can cause: Allergies/immunotoxicity, Irritation (skin, eyes, or lungs)?

Refreshing, at best
This doesn't do much for me on its own, and it doesn't do much more when I layer it over the All About Eyes Cream. As Nancy-Lee C. suggested, keeping it in the fridge does make it an extra-soothing treat for tired morning eyes.
Maybe I'm so indifferent towards this because I use another product by Soap and Glory which does what this wants to do, but 100x better - waiting for Beautylish to add S&G so I can review it :)
---