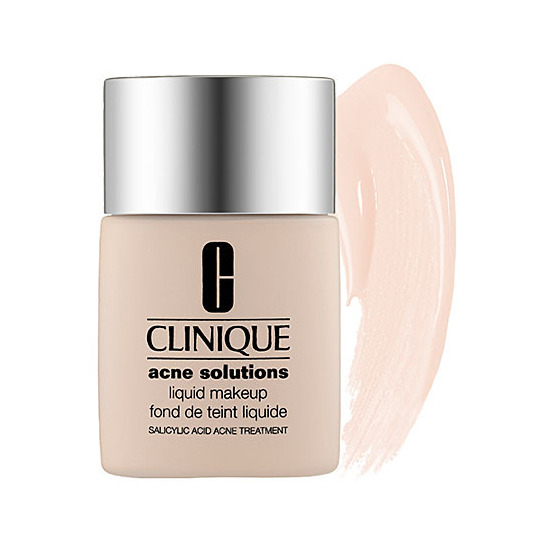 Rollover image to zoom
Reviews

Love it!
This foundation saved my face when i was breaking out so bad. I have oily and acne prone skin but this worked out for me. oil control is so so and coverage was medium but this foundation looked natural. Im thinking of repurchasing but this is too expensive for my budget for everyday use.

Did What It Claimed, But Didn't Wow Me
This foundation did what it claimed- doesn't irritate, non-comedogenic, and doesn't create more oil. With that being said, I found that it stuck to every little dry patch. In my defence, it's been ages since I've used it, but I doubt the result would be any different now than it did when I was fourteen. This specific foundation met my expectations, but didn't really wow me or make my skin look like anything spectacular.

My new favorite foundation
I have major acne. And i went to the store and saw this so I had to get it. Got it in fresh ivory. It doesn't break me out, doesn't make me look oily, covers up. It covers all my acne up! That's a first I'm usually putting on so much concealer this covers up better! A must have and will be purchasing it again! I highly recommend it

Amazing!
I have dry, acne prone skin so its very hard to find a foundation that works for me and this one is perfect! It makes my complexion perfect, full coverage, doesn't get cake, doesn't dry me out, or break me out. Magic in a bottle. Also, where I'm from, its only $27. I would highly recommend this product.

This is the worst foundation I have ever used. I have very sensitive, acne prone skin so I thought this would be a great way to use makeup and help control breakouts, WRONG. This dried me out like crazy and broke me out. I have really oily skin so the fact that this foundation dried out my skin like it did is terrible. And because my skin dried out so much, it started breaking out. I wanted to like this because my skin looked matte and fresh the entire day but at what cost. Sadly this was a huge miss for me.

Amazing
I have been using this foundation daily for about a year now. It may be a little on the pricey side but one bottle/tub lasts me a good couple of months. This is a really easy foundation to work with and like the fact that it helps fight your spots as well as just covering them. The coverage is good and can be built up, I use a Real Techniques buffing brush for this. Amazing product, would recommend this to anyone with problem skin.

My everyday foundation!
I've been using this foundation for 2 years now. I love it so much! It provides just the right amount of coverage without it looking unnatural. I love the fact that it fights my acne and doesn't clog pores like a lot of foundations do. I still use it to this day!
---