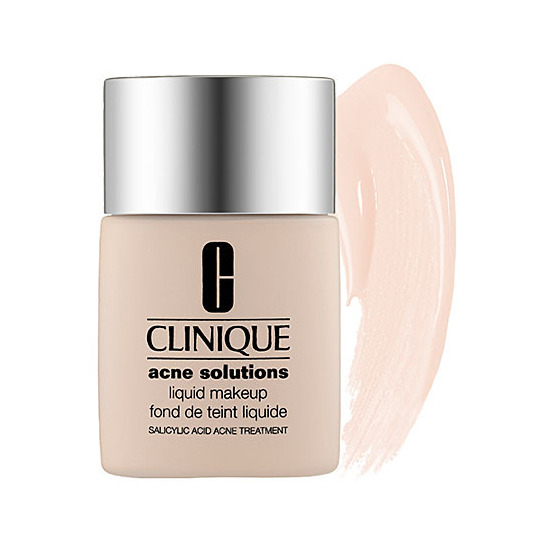 Rollover image to zoom
Reviews

Best!!!!
I only use Clinique foundation. It controls my breakouts very well. It's not oily or greasy like other liquid foundations. I use their tinted moisturizer with SPF and then apply the foundation. Both are amazing. I will never buy any other product :)

One of the few liquid foundations that I have tried that does not cause me to break out. It gives good coverage without me looking cakey and has incredible staying power. Has a matte finish, which I love because I have oily skin. Even if I don't apply a primer, this foundation will last me all day. I usually set it with Makeup Forever HD powder and I'm good for the day! No touch ups needed.

My new favorite foundation
I have major acne. And i went to the store and saw this so I had to get it. Got it in fresh ivory. It doesn't break me out, doesn't make me look oily, covers up. It covers all my acne up! That's a first I'm usually putting on so much concealer this covers up better! A must have and will be purchasing it again! I highly recommend it

Amazing
I have been using this foundation daily for about a year now. It may be a little on the pricey side but one bottle/tub lasts me a good couple of months. This is a really easy foundation to work with and like the fact that it helps fight your spots as well as just covering them. The coverage is good and can be built up, I use a Real Techniques buffing brush for this. Amazing product, would recommend this to anyone with problem skin.

My everyday foundation!
I've been using this foundation for 2 years now. I love it so much! It provides just the right amount of coverage without it looking unnatural. I love the fact that it fights my acne and doesn't clog pores like a lot of foundations do. I still use it to this day!

wrong shade but good product
i bought this product a while ago and i wore it regularly, it was alittle darker than my face but matched my body. this foundation kept me matte for maybe like 5 hours? i have an extremely oily t zone and i blot every 2-3 hours. other than that it is a very good product and perfect for anyone whose skin is oily and acne prone!

Fantastic foundation!
This foundation is more on the heavy and thick side but it definitely covers. I have mild acne and get oily in my T zone and this works so well with my skin. Personally I think it can go from light to heavy coverage depending on how much you build it. The foundation claims to help actively get rid of spots which I don't know if that's true but it doesn't seem to make them worse! I have had 2 shades of this and I find they both have quite pink undertones which is weird because there is no cool/warm option for the shades as far as I am aware. Other than that, great product.

seriously love this product! I use this almost everyday and it hasn't let me down once. I have mild acne and the coverage is amazing. This foundation is a bit heavy but covers everything! A little pricey but defiantly worth the money! I apply it with either a liquid foundation brush or my fingers, then apply a light powder on top. Can't stress how great this is, spend the money and get this! The only thing I wish was that there could be more liquid in the bottle. ;)

My skin tends to breakout alot depending on the makeup I would use. Every since I started using this product I haven't had a breakout which is lovely. I usually wear this under the Clinique Superbalanced Powder which is awesome as well. They both provide great coverage and look very natural. It last all day when I use them together. Easy to apply and remove. I will not be using anything else!!
---