3-Step Kit - Skin Types 1,2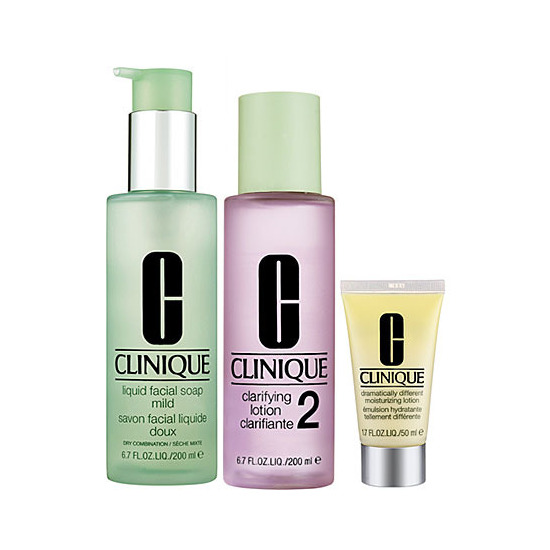 Rollover image to zoom
Reviews

I always end up going back to this stuff, it never fails to make my skin look good. I just love it! It honestly does help you if you use it twice a day, once in the morning and then again before bed! The toner does have a horrid smell, I'm not going to lie but honestly Clinique makes the best skin care products and always makes my skin look amazing!

Clinique might not have the makeup that most people want, but they need to keep in mind that Clinique is good for sensitive skin which means it's pretty safe. Now with the product, it's not supposed to help with breakouts, but keep your face soft, exfoliated, and moisturizer. Overall I would say that this is an amazing product

A few months ago I met this girl with a really healthy and fabulous skin and I asked her what products she used, and she told me about the 3 step plan. So I decided to try it out for myself. And I really love it!! It does wonders for my (very dry) skin. Sometimes I do need to use an eye cream or a day cream, but most of the time the 3 steps work very well for me.

Skin Type #2
Facial Soap: Very mild, I suggest using a facial loofah or cotton pad to help with additional exfoliation. I find that one pump is enough soap to wash my face in the AM. At night, I use Clinique's Take The Day Off Makeup Remover and pump the soap twice.
Toner: Its smells a little strong and if you are just starting the 3-step, you will break out more because all of your impurities are surfacing, but once your skin starts to calm down, you will see a difference. Apply with a cotton ball, additional exfoliation is not necessary.
Moisturizer: The #2 3-step comes with the lotion NOT the gel. I find that again, a little bit goes a long way and if additional moisture is needed, pair it with Clinique's Moisture Surge for your dry spots.

visible results
i got the weeks tester kit as a gift from sephora for having enough beauty points and after using the cleansing lotion, which i lovvvvve then the toner and then the moisturizer, i honestly saw results just about the next day. i really love it and am planning on buying more when i get enough!

this is what essencially made my skin so pretty and flawless today :) i started using it when i was 12 and its been my favorite skin care system to date. i use the dramatically different moisturizing gel instead of the lotion though, because the lotion is too thick for my skin.

Wish everything was easy as 1, 2, 3...
Facial Soap: Cleans well, not too harsh. Toner: Feels tingly, but cleans up well...may feel a bit tight but once you Moisturize: Everything is a ok
I was breaking out A LOT & bought this & now I get the occasional period pimple. DAMN YOU MOTHER NATURE.

Fantastic
I started using this back in December and it literally has been heaven on my skin. I have noticed a dramatic difference in the way my skin looks and feels. And even though I have changed up my face routine a bit since I always keep at least one of their items in it because I swear my skin goes screwy without it!

My face loves Clinique!
I didn't at first love using these products but after a few months decided to go back and try them again after receiving a few free samples. I'm not sure if it was the weather, season or what but my skin didn't react the same and now my complexion is evened out, I have less breakouts and my skin is nice and soft. I try to do all three steps but I usually just end up washing my face and moisturizing twice a day. I don't know how I went without moisturizer before...my cheeks thank you!
---