Dual Action Moisturizer Oil-Free Facial Treatment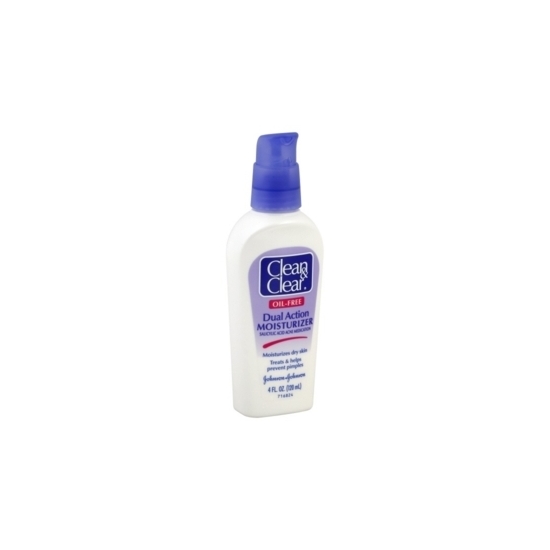 Rollover image to zoom
Reviews

It's not too bad
I like this product because it's oil-free. I think this just SMELLS like it's good for your skin. I will use this by mixing it with concealer or foundation so that I will get the moisture my face needs without having to unevenly apply this over makeup. Pros: smells awesome makes your skin soft moisturizes doesn't give you acne Cons: sometimes it won't really moisturize really dry spots on my face sometimes it makes dry spots on my face worse??

Good, but...
I use it everyday mixed with my Covergirl 3-in-1 Outlast Stay Fabulous Foundation. The only thing is, is that it has this weird cooling sensation. Am I the only one who hates that? Anyway, didn't break me out.

Pretty good!
I use this moisturizer at night time. It usually does everything it needs too. The bad thing about it is it is a very thin I mean thin formula. Some people may like that but I wasn't too sure about it.

I always come back to this
I use this moisturizer at night, and I think it's great. It helps with my acne and blackheads, minimizes my acne scars, and provides the right level of moisture. I tried using a different moisturizer for nighttime, but came back to this when the other one made me break out horribly. I don't plan on switching again, because this one is just too good.

This stuff is fantastic. I've been using it for probably two years now after a friend of mine accidentally left it at my house and I tried it. It moisturizes but is never greasy and fades my acne literally from the time I get out of the shower til I put on my makeup. I have really oily skin that is prone to breakouts and blackheads. I don't know where I would be without this product. I will definitely be using this for the rest of my life.

It's ok..
I got this only cause I needed a moisturizer that was oil free since I have really oily skin and for me it seems like it still made my skin feel oily. It's an ok product but Im still changing up my moisturizers to test some out and see what really works for me.

Its good, but not all the time
Ive been using this product for a few years now, i mainly use it when i am starting to break out to combat which helps. i dont use it everyday though cause i find that it doesnt help much with my oil. all in all i will probly always rebuy, doesnt feel harsh and helps.
---