Mia Sonic Skin Cleansing System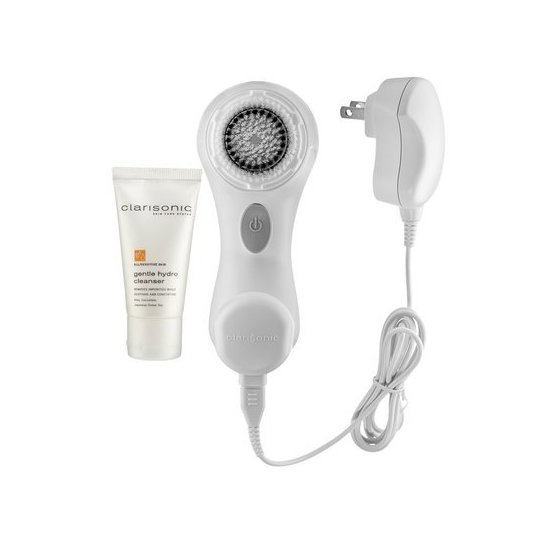 Rollover image to zoom
Reviews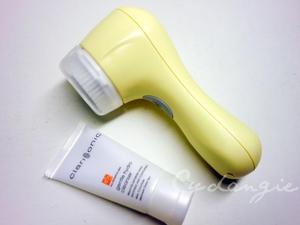 Clarisonic Mia ($149) is the smallest size of all. It is great to bring it to travel with. The battery life is 20mins, each time you use you only use it for one minute. I really like the universal charger and it is really cool because it's a magnetically attaches to the handle. Most of all I love the fact that this is waterproof, so I can use it in the shower.
My Clarisonic Routine After a month and half of using this product I have noticed the different of my skin. I know that clarisonic I use this every night at first then every other night. I find that using this every night for dry skin especially the dry weather is too much. I can probably use it more often during summer when I get so oily and gross.
I use this cleanser about 10 seconds each on my checks, 10 seconds on my forehead, 15 seconds around my nose and 15 seconds on my chin using my regular Origins cleanser. The brush head you're supposed to change it every 3 months of use. However, My skin feels like baby bum soft every time after I use it. I would touch it over and over again of course with my clean hands.
Clarisonic Claim More than 2x as effective as manual cleansing. (I agree) 6x more makeup removal. (I agree) Leaves skin feeling and looking younger and smoother. (I agree but younger lol hmm) Increases product absorption. (I agree) Clarisonic Mia Sonic Cleansing System is gentle enough for use twice daily. (Disagree) Reduces the appearance of fine lines and wrinkles. (Not sure, need my mother to try) Helps reduce oily areas, dry skin patches and blemishes. (I agree) Helps reduce the appearance of visible pores. (Not sure) Suitable for use with any non-abrasive cleanser. (I agree) Suitable for all skin types. (I agree)   My Thoughts - I am VERY happy with my skin, I used to get lot of small bumps on my checks but I don't get that anymore. I still break out from time to time, usually around that time of the month but that's fine. - For fading fine lines, or reduce my pores, I really don't see much of a different and again I've been using this for only a month and half. - When I first started on mia I had two huge scars on my check. I don't know if it's just me but my scars faded faster than it normally would. - Not only this product exfoliates my skin, but I also use this on my lips and my neck. It helps me to get rid of my dry lips. So I can apply my lipstick better. And Yes it defiantly helps to remove my dry skin patches. - Ever since I've been using Clarisonic Mia I feel more confidence with my skin, because I don't have lot of problems with my skin no more beside my dark circle, pores, black heads. I wear less makeup.

After using the clarisonic, I will probably never go back. Every time I use it, it leaves my skin feeling super clean and does a great job of removing all of the makeup. I will use makeup wipes or wash the makeup off my face first and then use the clarisonic. I will still see traces foundation on the brush head so I know it is doing some deep cleaning. One thing I will say is the clarisonic is NOT an exfoliator. There have been times after I use the clarisonic that my skin is still dry and patchy in some parts. Although the brush is rotating on your face, it is not exfoliating it. It is just purging the skin of impurities. I do still have to exfoliate as normal and use a good moisturizer.

Well, I've only been using this for about a week and I'm totally in love. My skin already feels super smooth and looks much more radiant. I have oily/combination skin that is very acne prone and I think this (along with another face cream) has cleared up my skin. My skin at the moment has several dry patches since it's the middle of winter and it has also helped exfoliate the dead skin. It only has one speed but I really don't know how much more important having more than one speed is. This is probably the simplest model that Clarisonic makes but it's alreay a holy grail product. FYI: i use it with the murad acne clarifying cleanser and the sensitive brush head and it works great.

LIKE A DIAMOND, WOMENS BEST FRIEND
I truly feel that everyone [especially women who wear makeup] should own one !! Whether its the classic, plus, or the 4 speed [exclusive to estheticians]. I had been dying to get my hands on one of these and I finally did ..and I'm loving every minute of it !!! It helped my skin out a lot :)

Worth the investment
Skin type: combination I saw this on someone's blog and she raved so much about it that I decided to look into and read some consumer reviews. Mostly everyone loved it, I decided to get it in Garnet. The first time I used it my skin was so soft and felt super clean, it's helped prevent my breakouts.

Worth every penny
I have oily skin, have suffered from breakouts since puberty and am now 27. This is the clearest my skin has ever been. I've found my skin to be less oily by the end of the day, with or without makeup, and my products seem to work so much better. I actually haven't had any breakouts other than the ones caused by my monthly visitor, and I've been using it for about a month. I have the Mia in Berry which is only one speed and came with the sensitive head which is perfect for my skin. I charge it at least once a week and am good to go. So glad I made the investment.

BEST GIFT EVER!!!
My mom gave me the mia and I AM IN LOVE!!! It works really well for me and cleans my face on another level. It allows my moisturizer to really sink in and work! My makeup looks different and you can use any cleanser with it. I saw a difference after a few days.

I AM IN LOVE!
My skin did a 180 with this and let me tell you...the mia was OK until I got the PRO! The PRO speed is fantastic and the results are to die for. I wish I did a before and after with this. If it didn't work for you then chances are you have the wrong brush and/or are pressing too hard. It is CRUCIAL that you do 20 seconds on your forehead, 20 on your nose and chin/upper lip area, and 10 sec on each cheek...if you do not listen to these rules then you will have poor results. The brush and the timing are very very crucial and you can only use 1 min on your whole face and any longer on the cheeks it will either dry you out or damage your skin. I have been using it morning and night for 3 weeks now and it's fantastic! I used the nutra-sonic before I bought this and it damaged my skin so bad that buying a generic version was a BIG NO so I didn't buy the clarisonic due to poor results from the nutra-sonic but low and behold I gave in 6months later and got the mia and was so happy until I tried the pro. BTW I won the PRO for free on FB...go like them on facebook and there is a free giveaway each month but you have to tell them your experience with it or write something on their wall and they give you a clarisonic of your choice and I chose the PRO <--MY GOSH who wouln't? why is it an option when they should automatically give a pro to everyone hahahaha but that's how I won it and i am so happy and it also has a 3 yr warranty if it breaks on me =)
---