Mia Sonic Skin Cleansing System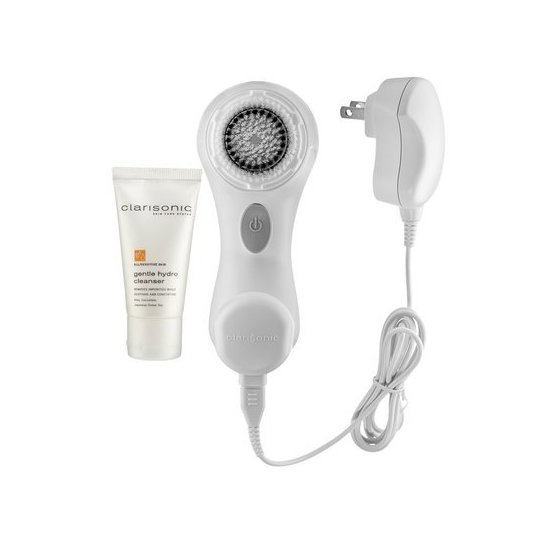 Rollover image to zoom
Reviews

Deep Cleaner Yet Gentle
I've had this about three months and I think I can give an honest opinion of this now! When you first use the brush it tends to be quite rough and a my skin was red afterwards. I didn't break out or have irritated skin but I note I shouldn't use harsher cleansers or use this twice a day everyday. Using it at night is fine! After a while my acne cleared up and I feel better going makeupless. The few times I do wear makeup the Clarisonic gets every bit even with cleansers that aren't that effective at removing makeup. My skin is definitely less oily and softer. Its quite sturdy and I've dropped it a few times without it breaking, but put it somewhere safe! It is prone to falling in the shower if you put it on a ledge. I must complain of a smell when you don't dry off the brush head, however it is easily remedied with a soak in rubbing alcohol. I adore it so much!

Worth Ever Penny!
As a holistic Aesthetician and Acupuncturist I am always reluctant to try machines due to the nature if my business, but after I saw one of my clients turn her skin around with one of these babies I knew I had to try it. I purchased one for myself and my skin has never been better! I love it so much that I have purchased the Pro model for my practice! I can't wait to introduce this little beauty to my clients!

I would use my Mia 3 times a week, first I started with the sensitive brush because I have sensitive skin. I had noticed I would then begin to breakout with these painful pimples! The parts of my skin that weren't breaking out looked fantastic though. I know the reason I was breaking out was because the Mia is supposed to very deeply cleanse your skin and bring everything to the surface, but this was over a 3 month period. So then I figured maybe if I get the brush that is intended for acne-prone skin then it would help, but I was wrong! 2 months later, the pimples did subside and started being less painful, but I was still breaking out so much. So I figured maybe if I stop exfoliating with this 3 times a week and just stick to 1 or 2, then the acne would subside. Yet again. I was wrong. Then I stopped using it and 2 weeks later I realized my skin has never looked better. So I guess it's not for everyone. In general, you really shouldn't exfoliate while you're breaking out because that just spreads the bacteria from the pimple.

I wanted this product so bad, my boyfriend bought it for me this last Christmas and I absolutely love it!
It makes my skin feel extremely soft, clean, smooth and overall refreshed. The cleanser I got with it was also amazing however to keep buying that cleanser is expensive (between $20-30) so I just use any cleanser and it works just as good.
You should replace the brush every 3-6 months because you notice it starts to look a bit worn (replacement head is $20)
The charging does not take to long but its lasts a while once its charged! This kit comes with the cleanser, Clarisonic, charger and a travelling case. The kit costs roughly $120.
I strongly recommend this, you will not believe how amazing your skin feels, just after one use! It cleans your skin way better then the normal way, I couldn't believe the difference.

I held off on buying this product because of the price. I certainly lusted after it, but I purchased the Olay Pro-X face brush and figured it was almost the same for 100$ cheaper. After a few months the Olay brush died and I received my tax refund, I decided to make the jump after researching for a few weeks. I cant believe I held off buying it for so long. Its such an investment for your face. I use it once to twice a day, and I can tell how smooth my skin is. I'm hoping with continuous use it will help clear away the black heads on my nose. They do seem a little more faint, but well see!

Marie-Claire M.
Jan 8, 2013
Needs better battery life
My Mia is supposed to last up to 20hrs for its battery life but it last maybe 3 uses before I need to charge it again. I found that once I changed brush heads my skin reacted a little bit. When I went back to the sensitive brush head my skin seemed to be okay. Cleanses the skin VERY thoroughly and it great for timing your routine. I recommend it but I recommend going for the clarisonic Plus instead. More options, more speeds, more brush heads over all better I believe.

LOVE it ! Worth the investment!
I purchased this back in October and I try to use it religously every night. Sometimes though, after a night of partying I forget, but otherwise I only use it once a day, each night. I cannot go to sleep without it anymore. It literally is like a toothbruch for your face. This once is perfect and small and I don't need all the extra speeds. My skin absorbs all my products friom skincare to makeup so much better. It feels smoother and brighter and I don't need so much makeup! Can't live without it anymore definately a great investment!

Well, I've only been using this for about a week and I'm totally in love. My skin already feels super smooth and looks much more radiant. I have oily/combination skin that is very acne prone and I think this (along with another face cream) has cleared up my skin. My skin at the moment has several dry patches since it's the middle of winter and it has also helped exfoliate the dead skin. It only has one speed but I really don't know how much more important having more than one speed is. This is probably the simplest model that Clarisonic makes but it's alreay a holy grail product. FYI: i use it with the murad acne clarifying cleanser and the sensitive brush head and it works great.

CHANGED MY LIFE!!!!
I have been using my Clarisonic for about a year. Let me tell you, My skin has been in the best shape EVER!!!!! I have oily/sensitive/acne prone skin. It deep cleans my face w/o irritating my skin. It has cleared up my pores to the point they look smaller. I use to break out pretty bad and I barely do now! My skin feels like a babies bottom. I have been noticing my skin tone looks more even and so does the texture. I honestly thing every woman and man should own one of these!

LIKE A DIAMOND, WOMENS BEST FRIEND
I truly feel that everyone [especially women who wear makeup] should own one !! Whether its the classic, plus, or the 4 speed [exclusive to estheticians]. I had been dying to get my hands on one of these and I finally did ..and I'm loving every minute of it !!! It helped my skin out a lot :)
---