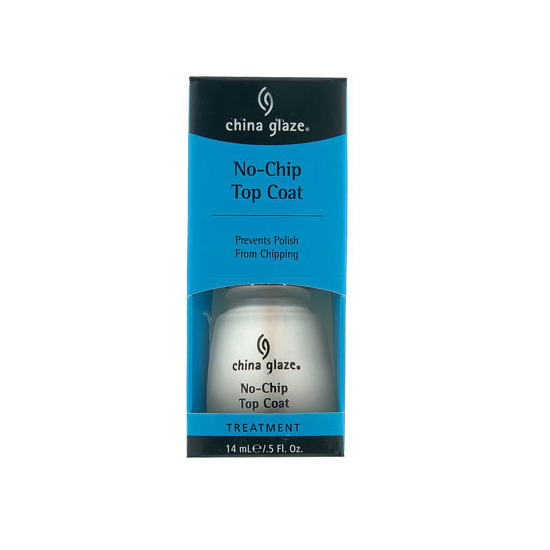 Rollover image to zoom
Reviews

I am a nail polish junkie, and I swear by this top coat. My first bottle was free, but now I regularly purchase China Glaze especially this top coat. The nail polish isn't super high quality, but the colors are fun! This top coat dries instantly and that's the first thing I look for if I'm DIY-ing a manicure at home. I don't know if it protects better than any other top coat, but it dries the fastest and when I am looking for a quick fix ... this is the best top coat.

Great product
I really like this top coat. Now it is the only one that I use. I find that it gives a nice glossy finish to your manicure even if you accidentally smug your polish or left a print on it. You can also wear 2-3 coats of this and it doesn't crack or chip for up to 2 weeks. This top coat is well priced and does last you a long time. When doing nail art I find that this top coat really helps to keep the gems or other nail art pieces that are added on to the nail (very VERY rarely have I lost a gem after using this to seal my nail). Most importantly, this top coat helps to make your nails rock hard, even if you have to use your hands a lot and don't treat your nails too carefully this will keep your manicure looking great. After a period of time this top coat does get thicker and more goopy, but sometimes I find that is good for sealing down a single gem stone or nail art piece. At that point this formula isn't good for using on the rest of your nails, but there isn't going to be much product left in the bottle anyways. This is a must buy item for me!

Do it yourself!!
China Glaze is the best product for the at home manicure!! It has a very unique scent that has a light bubble gum scent. The intensity of the scent wears down very quickly and then you are left with nails that smell like bubble gum.
It is a thicker top coat. One of the best things about the thickness is that it fills in all the scuffs or imperfections that you get from doing your nails yourself. One of the best things I like to do with it is paint my nails before bed and in the morning apply the top coat. It will mask all the smudging and sheet creases that i get from falling asleep before my nails are completely dry.
Since it is a no chip it lasts as long as a profesional manicure. When i do my nails at home by day two i have a chip or it has pulled up on the sides and with this top coat I avoid this!
I love the shine probably the most. Like I said, it is a thick application and it lasts so it always looks like you just got your nails done. It has a really nice high gloss shine that makes it look like you had all the time in the world to get an amazing manicure, but it dries so quickly that you don't have to waste all your valuable time.
---