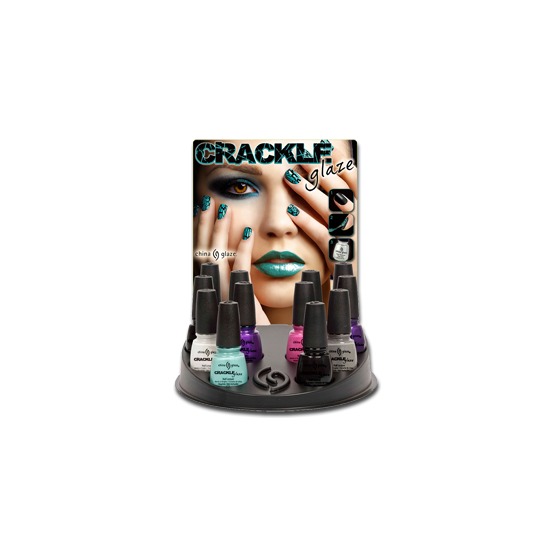 Rollover image to zoom
Reviews

Super Fun!
I got three of these within a couple weeks time and wanted to try it once I had all of them...It was worth the wait! It kind of let the excitement build (because I'm a nail polish junkie and sometimes I'm too spoiled and left not really in awe) & this was pretty awesome to try! I can't compare to OPI because I figured this has a pretty good crackle effect-and I love it.

Not the greatest
Have several of these, bought them on sale. Once I tried them I was very dissapointed. It doesn't look very pretty and it takes forever to do your nails. Plus it chips almost right away. Not a fan.

Not a fan.
I wasn't a very big fan of these. I bought a few at Sally's because they were on sale, and I wanted to give them a try. For me, they color came out to streaky and the overall look was pretty bad. They didn't really crack like I had thought they would. It was more like long straight cracks oppose to the mosaic effect they should give. For the most part they cracked, just not like they were supposed to. I would recommend the OPI or for less expensive brands, The Sally Hansen and Avon versions worked really well too.
LOVE IT!!!
I love the China Glaze crackle more than the sally hansen or the OPI. My biggest thing with OPI is the size of the brush, I don't care for how large and clumsy the brush is. These have a smaller brush that is easier to control and the coverage is great with only the one coat.

I really enjoy the china glaze crackle, I like this one more then I like the o.p.i. I find the o.p.i does not crack as well. the china glaze you have to give it a few seconds to crack, and some times it might not crack as well as it did other times. Myself I find have a pretty thin coat, but not to thin, but it it is to thick it will not crack as well, so make sure you have a middle amount of polish on your brush. :)

I reach for these often.
I love these polishes. They are definitely over-looked compared to the OPI shatter polishes and in my opinion for no reason! They crack as well or sometime even better than the shatters. They don't require for the polish under them to be 100% dry and I find the crack patten a bit more desirable even. I just wish CG would give me more of a color selection.
---