Ceramic Flat Iron (Original 1" CHI)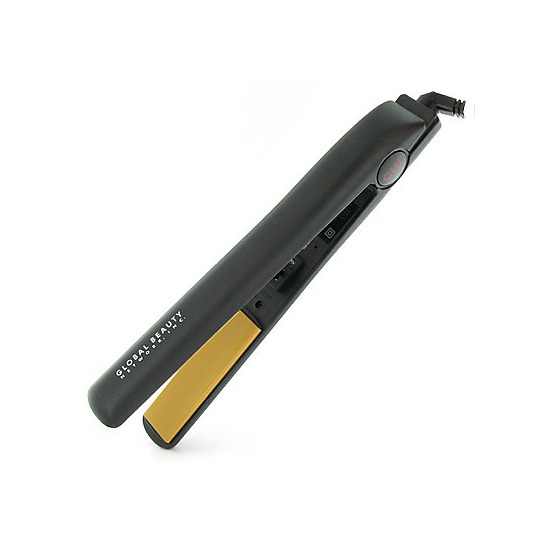 Rollover image to zoom
Reviews

Money-wise, this is one of those things that is well worth biting the bullet for. It heats up ridiculously quickly and straightens hair perfectly. For me, the straightness lasts all day and into the next day, too, until I wash it, which is amazing because usually, without a scary amount of hairspray, my hair usually doesn't want to hold a style even five minutes after doing it. This flat iron is magic.

Favorite straightener/curler
I love this straightener to straighten and to curl my hair. My hair gets pin straight and last all day long. And when I curl my hair it leaves in I in all day long weather I want them super curly or wavy hair. However I do have to give this product a 4 star because it doesn't have a heat setting. So as soon as I turn on the straightener I have to use it right away because I have every long fine brown hair.

one of my best beauty-related purchases
The one I bought is a bright pink metallic one with a matching heat protective mat. I love this flat iron... it is one of the best things I've ever bought myself. I bought it in early 2011 and it still works as well as it did the day I bought it. It did bother me at first that there is no setting, but that just makes my straightening process that much quicker because I cant hold the iron on my hair section as long. I have naturally curly hair which has defied 2 attempts at chemical relaxers at 2 different salons with 2 different types of products, so having a flat iron that can straighten my hair in about a half hour is worth the money to me.

HATE !
Ohemgee.. This flat iron was the death of my hair! I had purchased it for a lil over $100 at a beauty salon. I heard nothing but fabulous reviews about it so i had to try it for myself. I have pretty normal strong healthy hair. But when i used this iron. It completely burnt my hair!!! It DOES NOT have a heat seletion you just use it at whatever heat its programmed to. My hair smelt horrible and burnt..i just hated it. I ended up returning it and getting my money back the next day.. Then got myself a better flat iron from sallys :) . Problem Solved!!

best of the best!
just got the pink camo one, its so cute, and totally worth the money, heats up fast, and doesn't fry my hair like a frying pan. ;) haha! I used to have the aqua/turquioise/teal-ish one but it broke, :(
I bought a new one, a few months later and was so happy!!!

Life saver. I'm on my second CHI--the first one got stolen :( --and its lasted for about 7 years. No joke. Its lasted all the way through college and beyond and has not lost any power, heat, anything. It still works just the same as when I purchased it. I know most people say to get a flat iron with heat settings, etc but this one really gets the job done. I have thick coarse hair so I need high heat anyway. It makes my hair very soft and straight in just one swipe. It also helps a TON with frizz. If I don't straighten my hair and go out in the middle of summer (I live in humid Louisiana!) it basically turns into an afro. But with this it stays just like right after I straighten it. Probably my top holy grail hair tool ever.

Heats Up Fast, Then Gets The Job Done
It only takes a little while to heat up and the ceramic plates on it are GREAT for getting super-straight and long lasting hair! I use it EVERYTIME I straighten my hair and it always works like a charm. I definitely reccomend it for those of you with naturally curly hair, because it can really straighten well!
---