MAT LUMIERE Long Lasting Luminous Matte Fluid Makeup SPF 15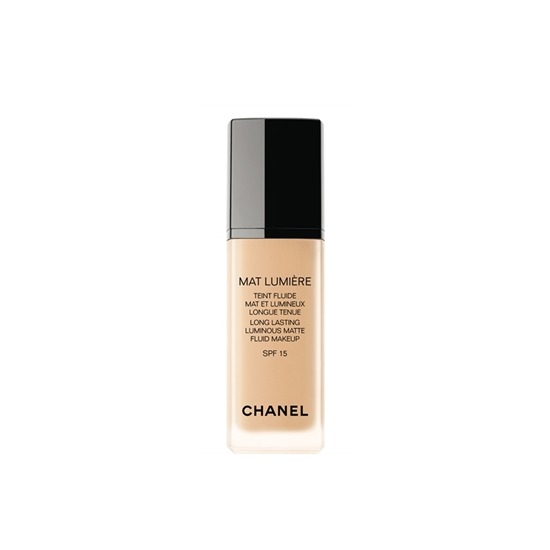 Rollover image to zoom
Reviews

Awesomeness in a bottle!
I recently was treated to a full consultation at a Chanel counter in Macy's. I really only wanted to sample Mat Lumiere because I am STILL looking for my holy grail foundation. I have been trying to find my perfect go to foundation for everything. I'm fed up of having several different foundations for different occasions. I want that all in one foundation. I'm getting off track. I went to the Chanel counter knowing Mat Lumiere is what I wanted to try. For my combination skin this is Chanel's best foundation.
I approached the Chanel counter and got matched. The SA at the counter offered to apply a full face of foundation for me. I took her up on that offer. Let me just say that EVERYTHING she used on my skin felt fabulous. I SO wanted to get everything but that would have been close to $400 and I'd be a dead chica later on when my boyfriend got the bill. She applied just the foundation. No primer or concealer. I asked her to put a pop of blush on just my cheeks. I really, really loved the way my skin looked. It looked so fresh and slightly dewy. I looked so alive. I fought the urge and did not buy it. I wanted to wear this for the day just to see what I thought about it.
I bought this foundation 2 weeks after my consultation. No buyer's remorse here baby! I really, really love the way this foundation looks, feels and wears on me. My skin has this natural glow that I wasn't expecting at all. Almost like post big O glow. And that's without any other products on my face. I don't use any brightening skin care products. My skin appears very smooth. This foundation doesn't settle into my pores or fine lines at all. I get a full days wear out of this. That is anywhere from 10-16 hours depending on what I am doing. Keep in mind I do use a make up setting spray. When I had this applied at Chanel it wore well over 8 hours on it's own. I like that I can apply this using my fingers without contaminating the product. I warm the product and apply it to my face. I then take either a foundation brush (if I have time) or my E.L.F. Flat Top Brush (if I am in a hurry) and blend out the foundation.
The pigmentation in this is top notch. I love the coverage it provides me. I could ALMOST get away with no under eye concealer if I am pressed for time. This product melts into my skin almost too well. If I am not careful I can leave streaks. Not because of the product but because of the horrid lighting in our bathroom. It's not the best. I usually check it in natural light before I leave the house.
I think the ONLY thing I don't like about Chanel's Mat Lumiere is the price. It's $54.00 a bottle. This is the most expensive single cosmetic item I have purchased to date. I really did struggle with purchasing this. In the long run it looks really good on me. It's easy to apply. It photographs well. It's long wearing. Mat Lumiere is everything I want in on a bottle. How could I not buy it? When I think about how much money I wasted on other foundations? Oh it makes me angry!
Chanel's Mat Lumiere is a really great foundation. It provides a long wearing, natural satin/matte finish. It is decadence in a bottle. I can't help but feel like a rich spoiled princess when ever I see the bottle. I also can't help but be reminded of my mother. She wore Chanel No. 5 when I was a little girl. Applying this product brings back so many fond memories. Stop by a Chanel counter and treat yourself to a free consultation. You might just be walking away with a little bit of luxury in a bottle.
XOXO Ashley

Perfect in every way!
I am a bit upset that Chanel discontinued my shade. I had the lightest being #002 Porcelain and it was the most perfect shade ever! The next shade up its #14 Ivory/Ivoire and it's too yellow for my skin. They fitted me with Perfection Lumiere in Beige Rose and it was a combo of #12 and #22. I would have to buy two shades and each costs $56 US. A bottle of Mat Lumiere lasts a long time, estimated 6 months to a year. Of course, if I did buy Perfection Lumiere in both shades I wouldn't have to buy foundation for a solid 1 1/2 to 2 years. If you find your shade in Mat Lumiere that you should stock up and enjoy!!!

Love this foundation
Purchased this foundation a while ago, and so far it has been the only foundation I have been using this winter. The color I am is Chestnut. I first started applying it with my fingers, and it was okay. However, now I use the real techniques buffer brush. The look is more natural and luminous. I will be purchasing this foundation again.

Got this cause I couldn't get Dior and ITS EVEN BETTER!!
I bought this and I am so surprised how much I loved this stuff! I thought that after having a sample of the Dior forever that was the cream of the crop! Oh no THIS IS!! I have an oily T zone and this solved it! It makes my face look so even! It really lasts and a little goes a long way which I love about that. I am in 20 clair and I got the last one. I love how its not all the way matte and I still have a glow and can highlight and contour. ITS NOT CAKEY!! I know the price is high but its worth it and a little goes a LONG way since its a thicker consistency. Which the MUA told me could last me up to a year.

Amazing! Jesus is a bottle!
I absolutely love this foundation... I prefer applying with a stippling brush. It gives a great air brushed look. I've gone through many bottles of this foundation. Not once has this foundation broke me out. I match 20 clair intensity. Definitely worth the price!

not completely matte, but very beautiful foundation
first things first, this foundation doesn't set completely matte, like MUFE Mat Velvet + does. That being said, if you have an oily skin, this provides a nice luminous finish without being shiny, so don't be afraid! I guess luminous isnt the best description, natural glow is more like it. It does keep oiliness under control, just doesn't dry completely matte. I love that it also comes with SPF.

Smooth and Even Foundation; Great Coverage; Long Wearing
I absolutely love this foundation! My shade is Cedar. I love that the product goes on smooth and last all day. Although I prefer sheer coverage, I love that this product has medium coverage. It gives a clear skin perfect finish. Def a must have for any beauty product lovers!

Louise-Lesley J.
Jan 12, 2011
Absolutely amazing!
I have quite problem skin yet I don't feel the need to conceal so much with this foundation as although it is a medium coverage, it can be built up to be nearly full coverage without it look cakey. The coverage is so natural.
I love this foundation so much because the colour I got literally matches my skin so well that I don't even need to blend it. It literally is so perfect that the skin on my neck and my jaw are identical without blending it downwards, and if I accidentally screw my foundation up when I'm in a whizz getting ready - you can't tell. It literally is perfect.
I have to disagree though and say that this is definitely not a matte finish. It leaves you dewy and healthy looking, but it does do a great job in stopping the majority of my shinyness!
I use this in the summer although it becomes too dry for my skin in the Winter, so I simply just change to a different formula! Comparing it with the Pro - it is runnier and definitely applies and blends easier.
---