Reviews

Best concealer I have ever used!!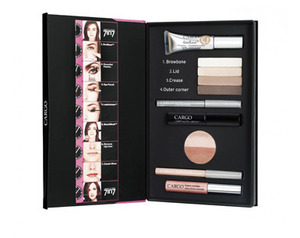 I have replaced my old Benefit Boi-ing with Cargo OneBase, since it is significantly lighter and more smooth, and requires less product and blending to cover my blemishes and dark circles.
Sephora may have stopped carrying Cargo products but you can still order directly from their website. http://www.cargocosmetics.com/products/face/onebase
If you don't want to order online, check out this page to find a store near you: http://www.cargocosmetics.com/store-locator.php
I got this product as part of the 7 in 7 kit, in light/medium. This light collection is sold out on the website, but you can still the warm medium kit online. I got mine at my local Sears. http://www.cargocosmetics.com/products/kits/7in7-mini-kit I just discovered all three variations of this kit are available on Cargo's Facebook store here: https://www.facebook.com/CARGOCosmetics?sk=app_127461413961085 How cool is that?!?

this is the Best concealer to me ,, i tried CC's Concealers and Dior and even MUFE But when i went to Sephora in the *ksa* i told him what is the Best Coverege Concealer ? and he showed me the Crago's one .. and it was'nt that expensive i tried it out and it was amazing amazing .. the Coverege is Fab and the Blending Ability is super great ! i tried it as a Foundation once and it stills amazing :)) and it stays even while swimming in the Pool so its amazing ,, you sould try it out

The easiest concealer!
I have natural dark circles and my skin color don't match regular concealers and foundations. So it's double trouble trying to find a concealer and a foundation that works with my skin, leaving a natural look. The Cargo one base it's a perfect concealer. Easy to apply, high coverage and matches my skin tone. The texture is liquid velvet and with just a few taps you can achieve the desired coverage for really dark circles. And a huge plus is that it blends naturally so you can use it with a foundation or a loose powder. You can use it for small blemishes as well.
---