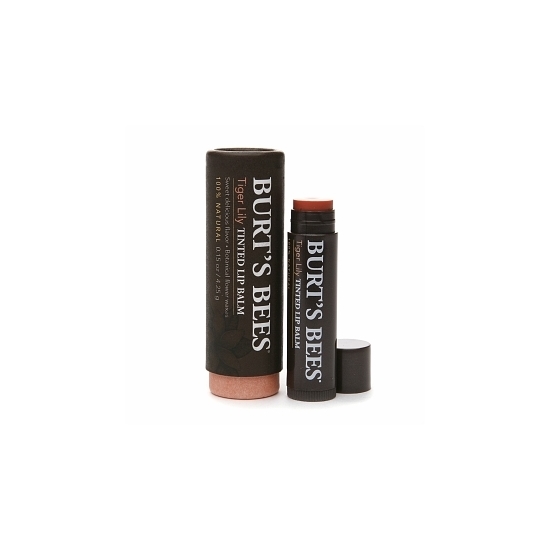 Rollover image to zoom
Reviews

Love at first swipe!
So I am currently "green-ing" my beauty routine and I recently picked this up. I heard great things about it so I decided I would give it a shot. I purchased the Pink Blossom one, it was the lightest of the pinks. Now, as much as I love that original Burt's Bees lip balm scent, I was hoping these wouldn't smell and be as drying as the original. To my surprise, it wasn't really like it at all! It actually moisturized my lips (I think the original is a bit drying) and created the perfect stain look. It was weightless and gave my lips the perfect shade of pink! Oh and did I mention the color lasts forever??

I was really excited about trying out this balm in 'Tiger Lily". When I first applied it, it certainly insinuated the lines of my lips & the color pay off was not as opaque as had hoped. But maybe I had been a little too overly optimistic in expecting color pay off, my lips are a pretty pigmented naturally. I only use this product if I have just used my lip scrub. But usually end up layering over it with something else. I am not a fan of the smell of the balm. But the slight tint is nice I suppose, but I certainly prefer my original Burt's Bees lip balm!

Margarita R.
Nov 30, 2012
My colour of balm is Pink Blossom. In tube it looks rich and very bright! The smell is sweet like lollipop and very pleasant. The texture of the balm is so soft, it has in composition Shea Butter, which is a valuable, nourishing addition to moisturizers for the reduction of wrinkles and to improve the elasticity of the skin and protect it against environmental aging. By applying the balm I feel how my lips start to get moistened. They look more healthy and attractive. I apply a thin layer on lips, because I like to add a light colour to lips. But applying 2-3 layers will make lips more rich. To sum it up, I can say, that the lip balm solves my 2 problems very well: it gives moistening and colour. This lip balm is 100% natural, it has beeswax and shea butter inside. It doesn't make lips sticky – it makes shiny. It is worth to try it!

My go-to
I have this in Rose and I love the color. It looks totally natural, like I just have a very rosy mouth. I wear it in every season, but in winter, it literally does not leave my purse- I am very fair and it provides just the extra color to make me look alive. If I am looking extra pale, I even put it on my cheekbones as blush, and it looks great and lasts well. Very moisturizing, and has lasted me forever even with constant use. I will say that it does not stain your lips much, so if you're looking for something a bit longer-wearing, maybe opt for Baby Lips. But I really prefer this- it's much more moisturizing, and doesn't smell like candy.

Bianca Nicole C.
Jun 28, 2012
Pink Blossom, Hibiscus
These make for a pretty pout. I wear daily. A must! I had to buy these as soon as I could they only con I have is the price $$$ it's a little pricey for a lip balm.
Subtle, smooth and shiny- perfect for daily wear
I absolutely love this lip gloss and use the Honeysuckle one daily. I have been using Burt's Bees lip products for years, starting with the lip shimmer (champagne) but now I find the sparkles a bit much for daily work life. Feels great and keeps your lips soft all day. Only wish is that it had some spf protection. (I use the Burt's Bees regular chapstick with spf for outdoor activities, but these 2 products don't work well together.)

so moisturizing!
I also have this in Tiger Lily, and the color is extremely subtle. I was so afraid it would come off as orange on my lips as my skin is so pale, but it just leaves a very light wash of color. The moisturizing properties of this lip balm are by far its best quality. My lips are noticeably smoother after use, and the formula glides on like butter. Great for those who like all-in-one products!

I have used both Tiger Lily and Rose, I like both of them so, so, so much. It looks great on, not too much color at all. Even though Tiger Lily leaves my lips a peachy shade it's easily mistaken for my natural lip color. I definitely prefer the Tiger Lily to the rose, but I have a love of peach makeup in general. Great for somebody who wants a bit of color but doesn't want to look like they're wearing a ton of makeup.
---